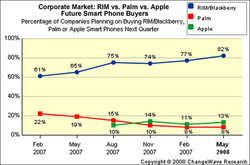 While the slowdown in overall spending may finally be stabilizing, this survey suggests that IT spending will remain anemic for the rest of the year
Rockville, MD (PRWEB) June 5, 2008
A new ChangeWave survey reveals a still soft corporate IT spending environment, although Research In Motion (RIMM) remains a very big exception as it continues to dominate the smart phone market.
The May survey of 2,049 respondents involved with IT spending in their organization shows highly upbeat results for the Canadian BlackBerry maker, with the company expanding its already vast lead (76%; up 3-pts) in the corporate smart phone market. Second-place Palm (PALM); 17% - down 1-pt) shows no signs of halting its long-term decline.
Looking ahead at 3rd Quarter planned corporate purchases, RIM has overwhelming momentum, with 82% of respondents buying smart phones next quarter saying they'll purchase BlackBerries -- a 5-pt jump since the previous survey in February.
"When you're hot, you're hot, and the latest results for RIM are scorching," said Tobin Smith, founder of ChangeWave and editor of ChangeWave Investing. "If every product had such market dominance, it would be easy to pick the winners in each space," added Smith.
There was also a solid move up for Apple (AAPL) and its iPhone (13%; up 2-pts), with the company now ranking second in terms of planned corporate purchases. However, Palm continues to languish going forward, with just 8% saying their company will purchase their smart phone devices.
(Detailed charts on corporate IT spending and smart phone trends, along with additional ChangeWave findings can be downloaded at changewave.com/corporate).
IT Spending Soft But Stabilizing
After a long and unsettling decline, there are signs that the corporate IT spending slowdown -- while still soft -- may be stabilizing.
When asked if their overall IT spending was on track thus far in the 2nd Quarter, 11% of respondents said their company had spent "More than Planned" -- up 1-pt since February. Another 27% say they've spent "Less than Planned" -- unchanged from previously.
Thus, current IT spending remains at virtually the same lowered level that it was in the previous quarter -- although it's a positive sign that things haven't gotten any worse.
Looking ahead to the 3rd Quarter, nearly one-in-four respondents (24%) say their company's IT spending will decrease (or there'll be no spending at all). That's 1-pt worse than the previous survey. In addition, only 15% say spending will increase, unchanged from previously.
The continued softness in projected spending is occurring across companies of all sizes, although once again things have pretty much stopped getting worse -- a sign of stabilizing in corporate IT spending.
"While the slowdown in overall spending may finally be stabilizing, this survey suggests that IT spending will remain anemic for the rest of the year," said Smith. "The one exception here is RIM, which just keeps on rolling."
To sign-up for real-time email alerts from ChangeWave on IT spending and smart phone trends, visit changewave.com/hotwire.
About ChangeWave:
ChangeWave runs a proprietary network of more than 15,000 highly qualified business, technology, and medical professionals in leading companies of select industries - credentialed experts who spend their everyday lives working on the frontline of technological change. ChangeWave surveys its members on a range of business and investment research topics, collects feedback from them electronically, and converts the information into quantitative and qualitative reports. For more information, visit changewave.com/corporate
###