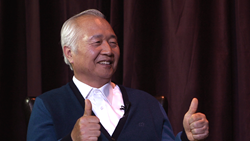 From practical questions about the best meditation to unblock chakras to relationship advice, readers' questions reflect society's deep thirst for personal awakening
Sedona, Arizona (PRWEB) October 03, 2013
ChangeYourEnergy.com, newly launched and rebranded personal change, wellness and meditation website has added a special reader Q&A section and a blog about energy to its offerings. Created by New York Times Bestselling author and meditation expert, Ilchi Lee, the site offers useful information and simple tools for holistic living.
Ilchi Lee's Energy 101: Intro to Better Living is the new blog devoted to teaching people what life energy is all about and why changing it can make life better. The blog's direct messages from Ilchi Lee support and expand the website's personal touch.
In the spirit of making good on their promise to provide community support to people with life challenges, ChangeYourEnergy.com added a Q&A section where readers can personally interact with founder Ilchi Lee. Readers have access to the site 24 hrs. a day.
From practical questions about the best meditation to unblock chakras to relationship advice, readers' questions reflect society's deep thirst for personal awakening, in their own lives and for the planet. Lee provides answers that empower people to recognize that the solution to their problems lie within their own lives. Not only do individuals have vast capacity for powerful, personal change, according to Lee, their personal change can also positively impact their communities and the planet.
About ChangeYourEnergy.com:
ChangeYourEnergy.com is a wellness lifestyle resource based on Taoist philosophy and the teachings of Ilchi Lee, a meditation and brain education leader. Changeyourenergy.com offers accessible, around the clock guidance, inspiration and practical online training to enable people to realize and activate their full human potential.