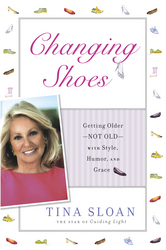 Join Tina Sloan as her new book, CHANGING SHOES, gets around.
(PRWEB) September 14, 2010
CHANGING SHOES is a book about change. It's a book about finding the courage to transform yourself, to learn how to twinkle again after your lights have been dimmed. This book is for anyone who has ever stood in front of the mirror and asked, "Can I stay in the game?" The answer is: "Yes! You just have to change your shoes!"
"CHANGING SHOES, which discusses the challenges of getting older with dignity, style, and humor, is now my latest indulgent weakness. I love the charming philosophies..." – Liz Smith
At 48, Tina felt like she was invisible. "Everywhere I turned, there seemed to be signs that my life was changing, and not for the better: My parents' health was in decline. My son had recently joined the Marines and would be going to Iraq. My skin was duller. My body softer. My 26 year career as an actress on Guiding Light was being diminished. When I started out, I was the star of the show. As time marched on, I became the mother of the star and then the grandmother of the star." Gone were the sexy, strappy, silver high heels —Tina's go-to shoes were now a pair of scuffed and broken-in black flats with Dr. Scholl's insoles. Something had to change. Tina decided to stick it out (patience) and reinvent herself (transformation) in order to keep the career she loved.
Charmingly written and humorously honest, CHANGING SHOES is the story of one woman who refuses to let her light be dimmed. In a warmly relatable way, Tina tackles the issues all women face—eventually—including weight gain, caring for aging parents, children leaving home, evolving romantic relationships, and adjusting to aging looks and a dwindling career. Tina not only shares hilarious stories, she also provides practical advice learned in the trenches and in the hair and makeup rooms of movie sets and Guiding Light and on the summit of Mt. Kilimanjaro.
About Tina Sloan
For twenty-six years, Tina Sloan, played the role of nurse Lillian Raines on Guiding Light, which aired its final episode in 2009 after a seventy-two-year run on radio and television. Tina has appeared in the Woody Allen films Celebrity and The Curse of the Jade Scorpion. She can also been seen in The Brave One with Jodi Foster, Changing Lanes with Ben Affleck, The Guru with Marisa Tomei, and People I Know with Al Pacino. On television she has appeared in Somerset, Search For Tomorrow, and Another World. She has been seen on Law & Order SVU and Third Watch. Tina has three films coming out: Black Swan (2010 post-production) with Natalie Portman, Happy New Year (2010 post-production), Oh My Love (2010 post- production) and is touring nationally in her acclaimed one-woman show, CHANGING SHOES, which has sold out in New York City.
TO BUY CHANGING SHOES VISIT:
http://amzn.to/changingshoes
http://bit.ly/bnchangingshoes
http://bit.ly/borderschangingshoes
ISBN: 978-1-592-40568-8
###