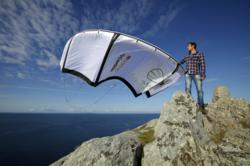 ''I am going to Kitesurft the 100 Nautical miles across the English Channel in under 5hours 20 minutes' Bruno Sroka-Kitesurfer
Brittany, France (PRWEB UK) 9 May 2012
As the London 2012 Olympic Games approach, Bruno Sroka, Champion Kitesurfer is going to mark the occasion with a world record attempt by kitesurfing accross the English Channel May 9, 2012. The crossing will promote kitesurfing as a new official Olympic sport in the Rio 2016 Games.
As soon as weather permits, Bruno is going to rise to the challenge of crossing the English Channel by kite surf. Bruno wants to attempt the record as soon as possible! We have been a little unlucky the past few weeks with a miserable April! But hopefully May will provide some great kitesurfing weather and we can get out on the sea!
He will attempt to cross 100 nautical miles, which is not the shortest crossing, but is definitely the most exciting. Manu Bertin holds the current record, and Bruno wants to beat his 5 hours and 20 minutes.
The world's eyes will be on London this summer, and it is for this reason that Bruno has decided to train for the crossing now. What better way to promote Kitesurfing as an Olympic sport than to smash a world record arriving in the host country!
Bruno has been training hard mentally & physically so that he can prove to the world that Kitesurfing deserves a place in the historic event. The 2016 games take place in Rio will be an amazing place to introduce kitesurfing to the Olympics!
About Bruno
Bruno Sroka is France's number one kitesurfer. He has won the Course Racing World Cup 3 times, as well as winning the European Championship 3 times. He is the first and only kitesurfer to cross the Cape Horn by kitesurf. He is also a philanthropist & actively promotes the Green Cross, of which he is an ambassador.