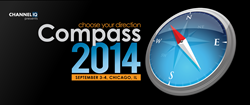 The Channel IQ summit, Compass 2014 is the only event of its kind in the USA.
Chicago, IL (PRWEB) May 20, 2014
Channel IQ, the world's leading provider of online retail intelligence and channel management applications announced today that its fourth annual successful channel management conference, Compass2014, will take place on September 3-4, 2014 at Chicago's Downtown Marriott Magnificent Mile. Compass 2014 will feature a variety of keynote speakers, tracks, and breakout sessions targeted at solving challenges that face manufacturers and their online retailers. It also offers numerous networking opportunities with channel management experts, leaders, and peers.as well as a variety of sessions covering vital commerce topics that cater to all levels of expertise.
"This year, for our 4th annual summit, we're renaming the event to 'Compass.' And, we want to make sure our attendees know that this year's conference is going to be bigger and better than ever before," said Channel IQ CEO Wes Shepherd. "We are excited to be hosting our event in our hometown, Chicago, this year at the Downtown Marriott Magnificent Mile".
"Choose your Direction." is the theme of the Compass 2014 and it brings together the most innovative minds in price policy, channel management, and brand protection to network, share best practices, and create great ideas around successfully navigating the challenges that brand and channel management face.
The 2014 event at a glance:
Tuesday, September 2: Early registration and networking event from 6:30-8:30pm CT
Wednesday, September 3: Thursday, September 4: Main Conference
Wednesday, September 3: Compass 2014 "Blue Carpet" Networking Party and IQ Awards Ceremony from 6:30-8:30pm CT.
Friday, September 5: Client-only meetings at Channel IQ Offices.
The Channel IQ summit, Compass, is complimentary for existing Channel IQ clients; and is currently offering an early bird rate of $495 to non-clients through July 3, 2014. Seriously discounted hotel rates are also available for attendees at Chicago's Downtown Marriott Magnificent Mile. For more information and to register for Compass 2014, please visit the event website: http://www.ciqcompass.com.
About Channel IQ
Channel IQ is the leading provider of online retail intelligence solutions to manufacturers and retailers. Channel IQ provides real-time, online promotion and pricing information, empowering major manufacturers and retailers to quickly and profitably handle channel issues and competitive situations. Only Channel IQ combines integrated reporting, interactive applications, and managed services to enable manufacturers and retailers to automatically act on real-time data. Channel IQ solutions are the result of cutting edge technology combined with decades of industry experience in channel management, distribution, online retail and manufacturing. For more information, visit http://www.channeliq.com.