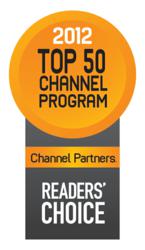 Our partners are the lifeblood to our success in a highly competitive sector of the communications industry
Dana Point, CA (PRWEB) August 23, 2012
SimpleSignal, Inc., the leading cloud-based Unified Communications and Collaboration provider for business, has been named a Top 50 Channel Program of 2012 by readers of Channel Partners magazine.
SimpleSignal was selected from more than 200 nominees in this year's competition for top channel programs across the US. The winners are listed on Channel Partners' website and will be recognized at the Channel Partners Conference & Expo in September, where SimpleSignal will be exhibiting in booth 112.
"Our partners are the lifeblood to our success in a highly competitive sector of the communications industry," said Michael Sterl, SimpleSignal's Executive Vice President. Sterl, who oversees the company's sales and channel managers, believes the award stands as evidence that the company is achieving its goal to strengthen relationships with partners. "We have worked diligently to develop a program that provides partners with the training and support needed to be successful in the marketplace," Sterl added.
Two years ago, SimpleSignal launched their Sherpa to the Cloud Partner Program. The program provides full-service partner support, including partner sales education, customer product training and branded marketing collateral. The company also provides partners with customized presentations to sub-agents and customers with road shows and hosted events across the US.
"Each year, Channel Partners readers tell their suppliers and peers which companies have earned their business, and this year is no exception," said Khali Henderson, editor in chief of Channel Partners. "What is significant about 2012 is the number of first-timers to the list as the indirect channel latches on to convergence, the cloud and evolution related to technology and sales techniques."
"The fact that we were nominated this year is a testament to where the industry is headed," said Dave Gilbert, founder and CEO of SimpleSignal. "As more and more businesses move into 'the cloud,' the channel is searching for providers offering hosted solutions that coincide with their customer's needs. Cloud communications is new to some of the partners, so we feel it's extremely important to support them in every way possible while also providing outstanding service to their customers."
This year's survey took place in July and results were compiled from responses given by more than 700 qualified channel partners, including master agents, subagents, independent agents, VARs, dealers, consultants and brokers. Qualified participants cast their votes for their preferred carriers, services providers, resellers, hardware and software vendors, and master agents, ranking them as standouts for factors including ease of doing business, quick quoting, responsiveness, extra support, higher commissions and better SPIFFs.
About SimpleSignal
SimpleSignal is an enterprise hosted PBX and cloud-based Unified Communications service provider, delivering voice, video, and mobile communications to thousands of satisfied business customers globally. The company provides the most innovative and advanced mobile/video PBX capabilities in the industry, and is one of the first companies ever to extend video PBX telephony over iPads, iPhones, and Android mobile devices that can connect with any brand of video conferencing equipment. For more information, visit http://www.simplesignal.com, check out the company blog at http://www.simplesignal.com/blog, or connect at facebook.com/simplesignal and twitter.com/simplesignal.
About Channel Partners
For more than two decades, Channel Partners has been the leader in providing news and analysis to indirect sales channels serving the communications industry. It is the unrivaled resource for resellers, aggregators, agents, brokers, VARs, systems integrators, interconnects and dealers that provide network-based communications and computing services, associated CPE and applications as well as managed and professional services. Channel Partners is the official media of the Channel Partners Conference and Expo http://www.channelpartnersonline.com.