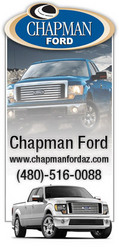 "We have been heavily in the domestic-car business with Chevrolet, Dodge and Jeep and feel good about adding Ford."
Chandler, AZ (PRWEB) March 18, 2011
Chandler-based Chapman Automotive Group has strengthened its position in domestic car brands through the acquisition of longtime Ford dealer Five Star Ford in Scottsdale.
Chapman adds the Ford dealership to its list of 18 new-car dealerships in Arizona and two in Nevada.
Eddie Davault, Chapman's chief executive officer, said the deal reflects the company's confidence in the U.S. auto industry and an opportunity to expand near its Chapman Scottsdale Autoplex on east McDowell Road.
"We have been heavily in the domestic-car business with Chevrolet, Dodge and Jeep and feel good about adding Ford," Davault said.
American cars have been increasing in popularity among U.S. buyers as domestic carmakers turn their struggling businesses around and produce vehicles that are more appealing to consumers. U.S. car sales could get another boost from the earthquake in Japan, which is expected to reduce the availability of Japanese imports already in short supply.
Davault estimated the Scottsdale Ford dealership would sell between 2,500 and 3,000 new and used Ford cars, trucks and SUVs this year, boosting Chapman's overall 2011 sales to about 23,000.
The Chapman Ford dealership is located at 7100 E. McDowell Road in Scottsdale and is near the Dodge, Hyundai and Volkswagen dealerships operated by Chapman at 6601 E. McDowell Road. Five Star Ford's 100 employees will be retained by Chapman.
"It was an opportunity that fit with our present operations," Davault said.
Chapman Auto Group was founded in 1966 by Jerry Chapman who moved to the Valley from Mississippi and purchased a Chevrolet franchise. The dealership is still owned by the Chapman family. With about 45 years of car selling experience, Chapman Auto Group demands the same high expectations for customer service and low prices at its Scottsdale Ford facility as it does the rest of its dealerships.
Ford cars, trucks and SUVs have long since proven to be reliable and affordable. Along the way, Ford gained a reputation stateside and worldwide as one of the best car manufactures. The opportunity to acquire the Ford dealership allows Chapman Auto Group to fine-tune and grow its Phoenix Ford dealer network in size and efficiency. Visit Chapman Ford to view a full inventory of Ford cars, Ford trucks and Ford SUV's or call 480.516.0088 to speak with a Chapman Ford team member.
# # #