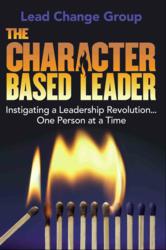 Character counts more today in leadership than ever before.
(PRWEB) November 30, 2012
The non-profit Lead Change Group just released their new book "The Character-Based Leader: Instigating A Leadership Revolution…One Person At A Time" written by 21 authors including Don Shapiro, President of First Concepts Consultants, who also acted as one of the book's editors. The book's core message is that leadership is about leading from who you are rather than your position or power.
According to the Lead Change Group, character counts perhaps more today than ever. "For all the emphasis on improving human relations skills, it turns out that a manager's character has more effect on employee retention and motivation than anything else. That's why this book is such a great leadership development resource" stated Shapiro who has been researching leadership issues for over three decades.
"The Character-Based Leader" explores perspectives and practical approaches to address topics such as trust, humility, integrity, communication, walking the talk, balancing relationships and results, leading from within, and more. It infuses some of the most current leadership thinking with some of the best ideas on how each individual can weave character into how they think and act.
Shapiro just posted a blog that ask seven questions to help managers evaluate their leadership character titled "When Your Character Leads the Charge, Everyone Owns the Goal." He is now giving speeches and seminars about the book at corporate meetings.
The book was written and edited by volunteer members of The Lead Change Group who believe that character is a key component in leadership effectiveness at work, in the community and at home. It is filled with real life stories, fresh insights and how to information. More information about the book including testimonials can be found here.
Don Shapiro is president and founder of First Concepts Consultants, Inc., a sales, marketing and management advisory practice based in Palm Desert that since 1985 has helped firms in over 30 industries. As a Revenue Detective, he investigates ways to help firms increase their sales, margins and market share and has made several discoveries about why people buy, perceptions of value and the customer buying process. For more than 30 years, Don has helped people learn, laugh and leave inspired through his customized speeches, seminars and training programs on sales, service, leadership, strategy and choices.