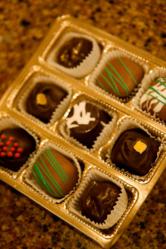 Recipe Born & Raised in Montana
Stevensville, Montana (PRWEB) July 31, 2012
Charbonneau's ~The Montana Chocolate Company ~ is celebrating ten years of success.
Located in Stevensville, Montana is the best kept secret in the world of chocolate: Mouth-watering, divine, fabulous, delicious . . . words to describe the artistry of chocolatier, Sheila Schiwal, and her family recipe of daily hand-dipped, all natural, award-winning chocolate.
Now celebrating ten years of heavenly chocolate, Charbonneau's is poised to undergo phenomenal changes in it's eleventh year of chocolate making. The company, which was founded by Sally "Alex" Johnson in 2002, is ready to soar to great new heights as it is distributed across the nation and globally.
Montana Chocolate global domination is the goal . . . after all, shouldn't the world experience the blessed Recipes Born and Raised in Montana? Montanans are proud of the achievement of one its very own, and the upcoming annual Creamery Picnic is the place to begin the celebration August 3-5 in Stevensville.
Charbonneau's started with a dream, creative ideas, and most importantly a knack for chocolate. It was logical that a family full of chocoholics would hand make their own chocolates. Sally perfected each recipe and created unique Montana chocolates and novelties that are original and delicious. Sally retired in 2005, and passed the torch to her daughter Sheila Schiwal.
In 2011, Charbonneau's teamed up with The Brown Family Businesses after
"Miss Ellie" Brown discovered this 'to-die-for' chocolate in the beautiful town of Stevensville, Montana. Being an admitted one hundred percent committed chocolate connoisseur, Ellie Brown, instantly understood that Charbonneau's Chocolate represented every aspect of the great state of Montana: hard work, integrity, family, devotion, and natural goodness. Together, Mike and Ellie Brown and Chocolatier, Sheila Schiwal, are devoted to bringing the tradition of Montana gourmet chocolate to the nation and beyond.
Join us in congratulating this integral part of the heart of the Bitterroot Valley in Stevensville, Montana at the Creamery Picnic August 3-5. Enjoy a sampling of the best chocolate in the West.