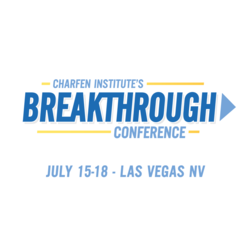 One of the keys to my success has been to align myself with people who are smarter than me and learn from their success...
Austin, TX (PRWEB) July 11, 2012
The Charfen Institute's Breakthrough Conference, which combines the premiere professional and educational opportunities of previous STAR POWER and Momentum Conferences, will take place in Las Vegas this Sunday, July15 through Wednesday, July 18. The Breakthrough Conference presents an unprecedented networking and production-boosting opportunity for real estate professionals throughout North America.
For the first time ever, the conference will bring together STAR POWER® Stars, Certified Distressed Property Experts® (CDPE), Certified Investor Agent Specialists® (CIAS), and other real estate professionals, all of whom are among the top-producing agents in the industry and on the front lines of the housing market recovery.
"One of the keys to my success has been to align myself with people who are smarter than me and learn from their success. The Charfen Institute and STAR POWER were founded with the belief that by sharing knowledge, we can help others find success in business and life," said Alex Charfen, CEO of the Charfen Institute. "I've recruited the top names and most sought after speakers in real estate and sales today to share their most highly guarded secrets about the new rules of winning in real estate."
Attendees of the Breakthrough Conference will hear from an amazing lineup of top industry CEO's and leading keynote business experts including Grant Cardone, sales expert and Turnaround King; Rory Vaden, New York Times best-selling author; Steve Harney, founder of Keeping Current Matters (KCM); Nick Sarillo, founder of Nick's Pizza and Pub; Suzie Humphreys, motivational humorist; Christopher Bird, founder of Chris Bird Seminars; Sherry Chris, CEO of Better Homes and Gardens Real Estate; Mark Willis, CEO of Keller Williams; Margaret Kelly, CEO of RE/MAX; Charlie Engel, senior executive of sales and business development at RealtyTrac; as well as senior representatives from Bank of America, Citi Bank, and Wells Fargo.
For more information about the Charfen Institute's Breakthrough Conference and the complete lineup of the more than 45 speakers, visit CharfenBreakthrough.com.
About the Charfen Institute
The Charfen Institute educates and trains real estate professionals and small business owners to find opportunities in chaos – either by providing solutions to the foreclosure crisis or empowering entrepreneurs with strategies to embrace their companies' full potential. The company produces more than 300 educational events each year through various divisions, including the Certified Distressed Property Expert® (CDPE) Designation, the Certified Investor Agent Specialist® (CIAS), LEAD Experience™, and its annual Breakthrough Conference. The CDPE Designation is the fastest growing independent designation in real estate industry history, with more than 40,000 agents trained since 2008. In 2011, the Charfen Institute ranked No. 21 on the Inc. 500 List of America's Fastest-Growing Private Companies.