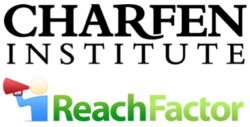 ...our agent directory clearly distinguishes agents who possess very specific skills
Austin, TX (PRWEB) June 21, 2012
Charfen Institute, creators of Certified Distressed Property Experts® (CDPE), Certified Investor Agent Specialists® (CIAS) real estate agent designations, announced today a partnership with ReachFactor.
Under the terms of the agreement, the Charfen Institute will promote and make available a special, no-cost version of ReachFactor's program to agents who hold any of the Institute's designations. These agents will be able to use ReachFactor's client feedback surveying and automated marketing tools to build and promote a 3rd-party-verified online reputation. ReachFactor, in turn, will promote and make available a special reduced rate offering to their members who chose to attend the Breakthrough Conference in Las Vegas this July.
Moving forward, ReachFactor will continuously update the appropriate CDPE or CIAS designation onto agent profiles in ReachFactor's directory of 600,000 real estate agents and correspondingly apply a new search filter so that prospective home buyers, sellers and investors can quickly find trained experts for their next transaction. All CDPE and CIAS-designated agents will be able to claim their free ReachFactor account from within the Charfen Institute network.
"We're tremendously excited to be able to share with our membership the value that ReachFactor provides to agents. They've brought real estate referrals into the 21st century with their innovative platform, and this allows agents to successfully expand their databases by maintaining a great online reputation," said Justin LeVrier, the Director of Business Development at the Charfen Institute.
"The best real estate agents continually invest in education and it's imperative that our agent directory clearly distinguishes agents who possess very specific skills," says Suresh Srinivasan, ReachFactor's CEO. "We look forward to automating the process by which Charfen's network of agents build and market their reputation to the buyers, sellers, and investors who are vetting agents online."
The companies expect the first phase of integration to be completed in June 2012.
About Charfen Institute
The Charfen Institute educates and trains real estate professionals and small business owners to find opportunities in chaos – either by providing solutions to the foreclosure crisis or empowering entrepreneurs with strategies to embrace their companies' full potential. The company produces more than 300 educational events each year through various divisions, including: the Certified Distressed Property Expert® (CDPE) Designation, the Certified Investor Agent Specialist® (CIAS), LEAD Experience™, and its annual Breakthrough Conference. The CDPE Designation is the fastest growing independent designation in real estate industry history, with more than 40,000 agents trained since 2008. In 2011, the Charfen Institute ranked No. 21 on the Inc. 500 List of America's Fastest-Growing Private Companies.
About ReachFactor
ReachFactor is a patents-pending customer satisfaction surveying and reputation marketing service that the nation's top real estate Brokers and Agents use to build business organically through search engines, social media, and a growing network of marketing channels. Prospective home buyers and sellers can find ReachFactor-verified data on over ½ million Agents through Agents' profiles on ReachFactor.com, through special integrations with Agents' websites and blogs, their LinkedIn, Facebook, and Twitter accounts, and other channels. ReachFactor is one of AGBeat's 60 Genius Brands to watch in 2012.