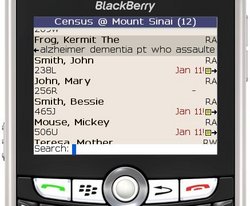 it made communication between partners in the practice very seamless and efficient because you do not need to sync with a computer
New York, NY (PRWEB) February 7, 2008
pMDsoft, Inc. announced today that it has released a new version of its mobile charge capture software for health care providers. pMDsoft 4.0 for the BlackBerry improves on earlier versions' easy and powerful charge entry, adding effortless, automatic wireless synchronization. Charges are pushed to the Web-based system where billing staff can process them; or, with the assistance of pMDsoft's industrial-strength HL7 interfaces, the charges can be sent directly to billing software.
Philippe d'Offay, CEO of pMDsoft, says, "By listening to our customers, we've discovered that none of the charge capture products that have been on the market are as mobile or as complete as doctors need them to be. That's why we've taken this extra step to provide an utterly seamless offline experience. We're setting a higher bar for charge capture: it's dead simple, it's wherever you are, and it just works."
Other advantages of this upgrade include full-text search of referrals, diagnoses, and procedures; complete visit history for each patient; and more information at-a-glance without ever leaving the census. Meanwhile, the features that made pMDsoft 3.0 for Palm great have been included and improved in the new BlackBerry version: a complete patient list for your entire practice, available no matter where you are or whether you're connected; a simple workflow that makes entering charges fast and easy; and seamless support for sharing patients between rounding doctors, enhanced by the new auto-sync to allow nearly instantaneous flow of information.
Our Customers Respond:
Doctors who have used pre-release versions of pMDsoft 4.0 love its simplicity and minimal data entry. Gary H. Friedman, MD, of Interventional Cardiac Consultants has found that "it made communication between partners in the practice very seamless and efficient because you do not need to sync with a computer," while Henry S. Cunningham, MD, of Texas Pulmonary & Critical Care Consultants has said that "adding patients and charges is a breeze - I recommend pMDsoft for the BlackBerry highly."
Providers also rave about the switch from Palm to BlackBerry: Dr. Cunningham "used a palm for years, so switching to a device on which a stylus is not used took a little time. After getting used to the BlackBerry I've loved it." Andrew E. Lituchy, MD, found that "it was easy to convert over my address book, calendar, tasks, etc. Within a few minutes I was able to use pMDsoft and enter names and visits rapidly. Finally, the device itself is awesome and addictive. I intend to use it to replace my Palm, my phone and my beepers."
Despite the additions and improvements to the software, the cost to customers -- typically far less than they save by using charge capture -- is unchanged. pMDsoft is committed to building and supporting the most innovative charge capture software on the market, and the incredible power and mobility of the BlackBerry platform will send customer satisfaction higher than ever and pave the way for future advances.
The future of charge capture is bright: Brian Dickover, MD, of Maurice Ndukwu, PC, has realized that "pMDsoft has allowed me to keep better track of my patients' billing, which has liberated time that I can now use for clinical concerns. Our office manager is now able to manage my billing so quickly and accurately as to possibly eliminate the need for more full time employees."
About pMDsoft:
Headquartered in New York City, pMDsoft develops wireless applications that help physicians streamline and automate their entire practice from point-of-care through reimbursement. The company was started in 1999 to address physicians' need for an effective, mobile alternative to their paper-based method for recording patient encounters. pMDsoft developed the powerful, flexible, reliable and easy-to-use mobile charge capture solution physicians were seeking. By providing real-time access to patient information anywhere, at any time via handheld devices or desktop computers, pMDsoft's medical billing program enables physicians to automate charge capture; view hospital census and office schedules; create a centralized patient information resource for the practice; and more. Through it all, we protect your patient data by adhering to the highest standards for performance, security and reliability.
Today, pMDsoft's customers include individual physicians, physician practice groups, managed care organizations, hospitals, and billing companies located across the country. We attribute our success to our unwavering commitment to developing the best solution on the market and to our superior customer service.
###