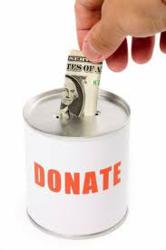 Yes, Girl Scouts Of America, you've got cash waiting, too! Simply complete those claim forms and rake in what could be a cool million or two
Los Angeles, CA (PRWEB) October 18, 2012
The Salvation Army should enjoy a big boost in California revenues this Christmas if it just fills out the California Treasury Department claim forms and collects on its $11,363.00 unclaimed cashier's check from California National Bank, or perhaps the 35,000 plus shares of mutual fund stock from Charles Schwab, or its 924 unclaimed shares of Cisco . The Cisco stock alone could be worth nearly $20,000.00, and depending on which Schwab mutual fund stock is being held, there could be hundreds of thousands more waiting to be claimed right now. According to a new report from UnclaimedMoneyDiscovery.com, there are millions of charity dollars currently gathering dust with state treasuries in all 50 states. The genesis of these funds includes unclaimed distributions from wills and trusts, uncashed cashier's checks, credits from vendor payments, unclaimed stocks and bonds, unclaimed corporate gifts and contributions, plus literally dozens of additional sources.
There is no question that charitable organizations from coast to coast have suffered considerably in the recent economic downturn. Donations have largely dried up for some of the smaller nonprofits and the major organizations are still down 6% from pre-recession levels. However, despite this donation drought, almost every major charity in the country is unknowingly sitting on a mountain of unclaimed cash and property. According to a report by Good Morning America, "Odds of finding unclaimed money listed in the name of a non-profit group are probably greater than finding it for yourself, because groups have more ties than individuals do and, thus, more potential for funds to get misplaced".
During a recent survey of the unclaimed property database in California, researchers discovered that 95% of the top 100 national charities had unclaimed funds waiting to be claimed. This survey found tens of thousands of unclaimed accounts, totaling millions of dollars in unclaimed money belonging to these charitable organizations. This list of lucky account holders reads like the who's who of the nonprofit world.
The YMCA has approximately 175 individual unclaimed accounts in California; each ranging in worth from a few dollars to thousands of dollars. The American Red Cross has over 100 unclaimed accounts. The Boy Scouts Of America has nearly 100 unclaimed accounts. United Way has more than 200 unclaimed accounts worth tens of thousands of dollars. City Of Hope has $6,000.00 waiting for them, courtesy of The Kellogg Company; $9,900.00 from another vendor, $16,141.00 from Hartford Life & Annuity Insurance Company and at least 40 more unclaimed accounts worth an additional $20,000.00 plus. The list goes on; and not just within the State of California. This is the tip of the golden iceberg. Take the numbers from this survey and multiply them by all 50 states, then add on the multitude of private and federal unclaimed accounts. This translates into thousands of nonprofit organizations owed staggering amounts of cash; likely in the hundreds of millions of dollars.
So why on earth would charities let the government simply hang onto these vast fortunes? It's not really their fault. According to unclaimed money expert Dan Anderson, " It's simply a lack of awareness. Budget-strapped states don't have the manpower or advertising dollars available to contact these organizations, and if no one comes looking for that lost money, it has nowhere to go". By the same token, most charities have to be focused on fund raising rather than treasure hunting, so that loose change in the seat cushions just continues to pile up, month after month; year after year.
The great news is that charities have a lot to gain by checking the lists. Every state offers free access to their unclaimed money database and they are very happy to return cash to the rightful owners. All that is required is time and effort, and the payoff could be huge. Alternatively, individuals and organizations that want to save time and improve their results can use the expert services of research firms like UnclaimedMoneyDiscovery.com. Yes, Girl Scouts Of America, you've got cash waiting, too! Simply complete those claim forms and rake in what could be a cool million or two. Incidentally, the very first unclaimed account listed under Girl Scouts Of America in California is for $5,510.00. And there are over 100 unclaimed accounts waiting for a Girl Scouts representative to claim. Of course, there are forty-nine more states for the Girl Scouts to search. If luck is with them, that could translate into hundreds; even thousands of additional unclaimed accounts worth potentially millions of dollars. That's a lot of cookie sales.
UnclaimedMoneyDiscovery.com is a professional research firm specializing in genealogy-based unclaimed money tracking. They offer complimentary initial searches for free. Simply visit http://www.unclaimedmoneydiscovery.com/freesearch.