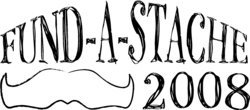 Whether your concern is protecting the environment, fighting cancer, or providing opportunity to children, you too can make a difference by simply putting down your razor
Phoenix, Ariz. (PRWEB) April 23, 2008
Fund-A-Stache, a charity-driven Web resource linking mustache growers to donors, today announced its plans to return for a third year. The site, http://www.fundastache.org, allows men to raise money for their charity of choice by simply growing a mustache during the month of May. Through a simple process of linking a "grower profile" to the Firstgiving.com online donation Web site, participants can raise funds while growing facial hair.
Fun, Easy, and Fights Cancer
"Whether your concern is protecting the environment, fighting cancer, or providing opportunity to children, you too can make a difference by simply putting down your razor," says founder and principal mustache grower, Jay Wiggins. "We have fun while realizing that, in our daily lives, we have the power to raise awareness and capital for an organization committed to making our world a better place. Where else can you support issues near and dear to your heart by actually doing less work? Think of it as a Lance Armstrong bracelet you wear on your face," Wiggins says.
Fund-A-Stache 2006 and Fund-A-'Stache 2007 generated impressive average donation totals of more than $600 per mustache, a marker Wiggins is confident will be bested this year. "We're excited about Fund-A-Stache 2008, and believe this will be our biggest year, both in terms of mustaches grown and dollars raised for charity," he says.
The Fund-A-Stache site utilizes blog postings and photo uploads to chronicle the mustache growth of each participant, and provides an easy mechanism for each to profile their chosen charities and pitch their 'staches.
Turbo Charged "Moustache May"
Running parallel to the notable Moustache May (http://www.moustachemay.com) activities, the Fund-A-Stache crew is capitalizing on the facial hair growth event to add a charity component, with the assistance of Firstgiving.com, Fund-A-Stache's charity portal partner. Firstgiving.com is also geared up for a big May. "We love when groups come together and find creative new ways to use our donation engine and, in turn, drive more awareness and charitable giving" says Mark Sutton, Firstgiving's CEO. "Firstgiving's personal fundraising pages make it fun and easy for groups or individuals to launch online fundraising campaigns in minutes. Fund-A-Stache is a cool way to energize the donor community and we're excited to help these guys have fun while supporting the important work that our nonprofit organization clients perform."
Setup and Timeline
Fund-A-Stache is currently processing registrations for the May 1, 2008 launch. The mustache sporting and fundraising will continue through May 31, 2008. All participant growers must be registered with Fund-A-Stache and Firstgiving by May 5. Interested parties can create a grower profile and begin soliciting donations for their charity of choice by signing up at http://www.fundastache.org.
About Fund-A-Stache
Fund-A-Stache has revolutionized charitable involvement by identifying easy and fun ways to support charities. During previous years, Fund-A-'Stache has generated tens of thousands of dollars in donations for charitable organizations including: the American Red Cross; the Lupus Foundation of America; the Juvenile Diabetes Research Foundation; CURE Childhood Cancer; the Susan G. Komen Breast Cancer Foundation; the Aaron Diamond AIDS Research Center; the Polycystic Kidney Disease (KPD) Foundation; Project Peanut Butter; The M.I.S.S. Foundation; Last Chance for Animals; among others.
About Firstgiving
Firstgiving of Somerville, MA is the US office of Giving, Ltd. of London, England. Established in 2003, Firstgiving provides user-friendly online fundraising tools for fundraisers and organizations that help thousands of individuals raise millions of dollars for certified 501(c) US nonprofit organizations. The company works with over 2,000 charity clients and tens of thousands of individual fundraisers who have raised more than $50 million online. For more information please visit http://www.firstgiving.com or call (617) 591-2121.
© 2008 fundastache.org. All rights reserved.
###