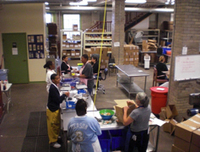 "These events leave a lasting impact on everyone that participates."
Denver, CO (PRWEB) October 23, 2010
Corporate Teams has partnered with the Women's Bean Project in an effort to expand their Charity/Philanthropic team building programs and corporate events for businesses. Based out of Denver, the Women's Bean Project hires low income, chronically unemployed women to assemble their gourmet food, handmade jewelry, and unique baskets. Their goal is to end the cycle of poverty and help them become self-sufficient members of their communities.
The Women's Bean Project Charity Program combines meaningful team building with the assembly of unique gift baskets. The overall objective for each team is to complete a series of Strategic Team Challenges that test the team members' abilities to work together efficiently and effectively. Team members increase their team performance and gain a sense of giving by supporting the Women's Bean Project. Completed baskets are either donated to a charity organization or given as corporate client gifts.
"We are excited about the opportunity to work with Corporate Teams," commented Marcia Neville, Director of Corporate Partnerships at the Women's Bean Project, "It's partnerships like this help to spread the word about our mission."
In addition to this new offering, Corporate Teams offers a Charity Bike Event in which team members work together to assemble children's bikes. At the end of the event, children in need from the local community are presented with their new bikes.
"These events leave a lasting impact on everyone that participates," explained Liz Hafer, CEO of Corporate Teams, "they serve a dual purpose of building better team members, while also inspiring the individual team members hearts through giving."
Corporate Teams, with offices in Denver, Colorado, Sarasota Florida, and Chicago, Illinois, delivers high-impact adventure team building corporate events and leadership programs throughout the United States. For more information, please visit http://www.corporateteams.com.
###