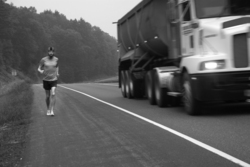 Let me come on your radio show; interview me for your newspaper; blog me - every little bit helps as I try to reach my goal of $100,000,000
Brattleboro, VT (Vocus) August 14, 2009
Ultra-runner Tellman Knudson seeks to set a new world record by running barefoot from New York City to Los Angeles this fall while raising $100,000,000 for homeless teens. He and his support crew have scheduled a test run through New Hampshire and Vermont, August 17 - 23. Knudson will run about 25 miles per day on the test run, inviting local media to meet him along the way.
"Let me come on your radio show; interview me for your newspaper; blog me - every little bit helps as I try to reach my goal of $100,000,000," said Knudson. "Plus, look at me. I look like Forrest Gump and I have no shoes on. I'm a reporter's dream. Everyone wants to hear about the crazy bearded guy running across the country."
Knudson will be departing Brattleboro, Vt. on Monday, August 17 and traveling west on Rte. 9 to Keene, N.H. From there, he'll travel north up Rte. 10 to Newport, N.H. He'll run west on Rte. 11 through Claremont, N.H. to Ascutney, Vt. By Friday, he plans to be in Ludlow, Vt., subsequently making his way south on Rte. 100 until he hits Rte. 30 and returns to Brattleboro.
Knudson will be starting his cross-country run in Battery Park in lower Manhattan on Sept. 9, 2009. His journey will take him to Chicago, where he'll connect with historic US Route 66 and arc down to L.A. He hopes to reach the Santa Monica pier in the Pacific Ocean by February, 2010.
An internet-marketing millionaire who overcame great odds as a teenager to become an ultra-runner, Knudson said in a recent interview that "nothing is going to stop me from reaching my goal. I'm ready to roll."
Knudson was born in 1978 in Enfield, New Hampshire with femoral antiversion, a bone defect that caused his feet to point inward at a 45-degree angle. He could barely walk without stumbling. Doctors told him he would need his thigh bones purposely broken and readjusted in a cast for 6 months if he wanted to walk normally. He nearly said yes to the operation, but instead decided to try out for the cross country team. A few years and countless hours of training later, his legs had straightened themselves out and he was breaking school running records.
Four years ago, Knudson started an internet marketing company, Overcome Everything, Inc. The company now employs over 15 people and pulls millions of dollars of profit annually.
To schedule an interview with Knudson along his test route through New Hampshire and Vermont, please contact Luke Stafford, PR Guy, at 802-275-2749.
For more information, maps, and to follow Knudson's progress, visit http://www.runtellmanrun.com.
About Tellman Knudson:
Tellman Knudson, 31, is a serial entrepreneur who has had great success in internet marketing. He is CEO of OvercomeEverything, ListBuildingClub and several other ventures. Tellman learned to leverage his ADHD, a condition that hinders many, to his creative and financial benefit. He has even been CEO of a busy hypno-therapy practice. Tellman was born with, but has overcome femoral antiversion, a crippling leg condition that made simple walking difficult. He dedicated his high school years to running, by competing in cross country and by running the 7 miles to and from school each day. By strengthening his leg muscles, his condition eventually corrected itself without invasive surgery. He went on to set records in his school and even competed for the state title. Tellman resides in Vermont with his wife and long-time partner, Jodi Meehan, and toddler son, Torgor.
About RunTellmanRun:
Tellman Knudson seeks to be the first person to run across America barefoot. He begins his 3,000+ mile journey in Battery Park, New York on September 9th and heads west, running the equivalent of one marathon a day. The route follows historic Route 66 for much of the way, with stops in Cleveland, Chicago, St. Louis, Oklahoma City, Tulsa, Phoenix and finishing on the pier in Santa Monica, California.
http://www.runtellmanrun.com.
About Homeless Youth:
Over two million youth (between the ages of 12 and 24) will experience at least one episode of homelessness each year and over 100,000 youth sleep on the street for 6 months or more in America. The vast majority of homeless, street-dependent youth will experience amplified risk of exposure to physical assault, rape, sexual exploitation, recruitment into gangs, and deepening mental health illnesses. Tellman Knudson has set a goal of raising $100 million dollars to help create the programs to reduce the risk these youth face on a daily basis, help get them off the streets, and rebuild their lives.
Run 10 with Tellman:
Join Tellman Knudson for a 10K (6.2 mile) section of his journey across America. Organized running events are planned for major cities along the route. Visit http://www.runtellmanrun.com/run10 for a complete listing of events.
Donate:
To make a donation, visit http://www.virginunite.com/runtellmanrun and help end youth homelessness.
For more information about the mission or to schedule an interview with Tellman Knudson, please contact 802-275-2749.
# # #