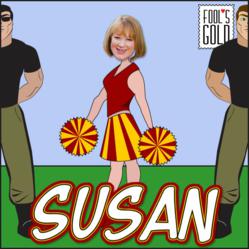 The Cheerleaders have collectively pledged $2,220 to the charities that mean the most to them, and Mallery has pledged an additional $5,000.
Seattle, WA (PRWEB) June 15, 2013
Fool's Gold, California may be a fictional setting, but 24 real life Susan Mallery fans are taking the town's generous spirit beyond the pages of books this summer. By telling readers about the romance novels Just One Kiss, Two of a Kind, and Three Little Words, the "Fool's Gold Cheerleaders" will win prizes for themselves and at the same time, raise money for their favorite charities. The Cheerleaders have collectively pledged $2,220 to the charities that mean the most to them, and Mallery has pledged an additional $5,000, which will be prorated according to the number of points each Cheerleader earns.
The Cheerleaders earn points for talking to people about Susan Mallery's books, for handing out excerpt booklets, for placing bookmarks into copies of Just One Kiss, Two of a Kind, and Three Little Words, and other street team marketing activities. At predetermined points levels, the Cheerleaders win Fool's Gold themed prizes from the author. Some of the Cheerleaders have been on the squad for three years now, since its inception.
The 2013 Fool's Gold Cheerleader Charity Drive was inspired by Cheerleader Beccie W. of Wynnewood, Oklahoma. Beccie told the group that if she reached her own personal points goal, she was going to make a donation to St. Jude's Hospital in the name of a special little girl she knew. Mallery loved the idea and wanted to support Beccie's generosity and to extend the offer to any other Cheerleaders with charities near to their hearts.
Cheerleader, Location, and Charity
Alisha W. – Bentonville, AR – Cystic Fibrosis Foundation, Bethesda, MD
Allyson B. – Roxboro, NC – Alzheimer's Foundation of America, New York, NY
Angela M – Evans, GA – American Diabetes Association, Atlanta, GA
Beccie W. – Wynnewood, OK – St. Jude Children's Research Hospital, Memphis, TN
Brenda R. – Tulsa, OK and
Suzie Q. – Maurice, LA – National MS Society, Denver, CO
Charlotte S. – San Antonio, TX and
JoAnne W. – Trumbull, CT – American Heart Association, Dallas, TX
Darla P. – Crown Point, IN – Humane Society of Hobart, IN
Deb O. – Hollywood, FL – American Red Cross, Washington, DC
Dee M. – Kansas City, MO – Friends of the Parkville Animal Shelter, Parkville, MO
Denise R. – Carlsbad, CA – Love on a Leash (LOAL) North San Diego Chapter, Encinitas, CA
Emily C. – Alexandria, VA – Navy/Marine Corps Relief Society, Arlington, VA
Jayme M. – Berea, KY – 4p-Support Group, Sunbury, OH
Jeanette B. – Killeen, TX – USO Fort Hood, Fort Hood, TX
Judie B. – Sarasota, FL – The Life Raft Group, Wayne, NJ
Lesley L. – Mechanicsville, VA – Ronald McDonald House Charities, Charlottesville, VA
Maria S. – Mechanicsburg, VA – American Conservation Association, Washington, DC
Michele R – Myrtle Beach, SC – Alzheimer's Association, to benefit the Greensboro, NC chapter
Shannon H – Pickerington, OH – March of Dimes, Westerville, OH
Stef M. – Perkasie, PA – A Woman's Place, Doylestown, PA
Suzette R. – Bismarck, ND – Boys Town, Boys Town, NE
Tanya C. – Voorheesville, NY – Mowhawk Hudson Humane Society, Menands, NY
Wendy K. – Macclesfield, NC – Victory Junction Gang, Randleman, NC
For more information on the Fool's Gold Cheerleaders, visit http://www.foolsgoldca.com.
About Susan Mallery:
With more than 25 million books sold worldwide, New York Times bestselling author Susan Mallery is known for creating characters who feel as real as the folks next door, and for putting them into emotional, often funny situations readers recognize from their own lives. Susan's books have made Booklist's Top 10 Romances list in four out of five consecutive years. RT Book Reviews says, "When it comes to heartfelt contemporary romance, Mallery is in a class by herself." With her popular, ongoing Fool's Gold series, Susan has reached new heights on the bestsellers lists and has won the hearts of countless new fans.
Susan grew up in southern California, moved so many times that her friends stopped writing her address in pen, and now has settled in Seattle with her husband and the most delightfully spoiled little dog who ever lived. Visit Susan online at http://www.SusanMallery.com.