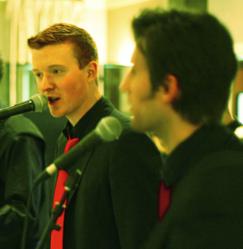 Having a band perform at a fundraiser is often very uneconomical and counter intuitive to the fundraising process, A D.J. usually makes more sense.
Boston, MA (PRWEB) September 27, 2011
Boston wedding band, Mighty Groove, will donate their DJ services to the Village Congregational Church on Saturday, October 1st as part of a fundraiser in Whitinsville. Whitinsville is a neighboring town of Worcester. The fundraiser is a community event open to the public, and many of the vendors, will donate their profits to the church.
Mighty Groove spokesperson Dave Roth says, "Charity and fundraising has always been a large goal of our group. We've worked with charities in the past, and it is always very rewarding."
While primarily considering themselves a "Rock Band Boston," New England cover band Mighty Groove also performs as a DJ, especially for charity events. Roth says, "Some fundraisers find that for the size of the event and the group, a DJ is the right choice." In the past, members of Mighty Groove have helped out with other charity events, including the 2011 Miles for Hope, Brain Tumor Awareness Walk in Boston.
Other members including Paul Geresy and John Stevens regularly contribute to charities in their home towns of Texas and Buffalo, respectively. New Hampshire native Nick Grondin performs charity events on occasion in his hometown for events near Manchester, and Southern New Hampshire.
While Mighty Groove primarily plays weddings in New England and university events, charity events are performed about once a month.
About Mighty Groove
Mighty Groove is a band based out of Boston that covers all genres of music and performs in Maine, Vermont, New Hampshire, Rhode Island, New York, and Connecticut. Mighty Groove offers entertainment for weddings, galas, receptions, charity events, and concerts. They have been performing at events since 2010. Performers in Mighty Groove include John Stevens on vocals, Nick Grondin on guitar, Gretchen Bostrom on vocals, Paul Geresy on drums, Tucker Antell on sax, Mark Zaleski on sax and bass guitar, Matt Edwards on bass, and Eric Lane on keyboard and sax, and David Ira Roth on trombone.
###