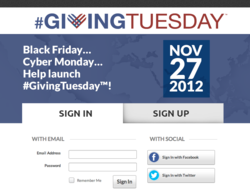 GivingTuesday will symbolize a national movement of solidarity driven by a simple goal: giving back together.
(PRWEB) November 21, 2012
Thanksgiving isn't just about sharing a meal with beloved family members and being thankful anymore. It also announces the kickoff of the holiday shopping season, punctuated by events such as Black Friday or Cyber Monday that have become a holiday ritual in a shoppers' life. Last year, these days combined brought in over $53 billion in sales. With all the "Best Deals", massive savings announced and more, let's be honest - resisting all the amazing bargains Black Friday and Cyber Monday have to offer can be a bad move. However, it seems these super sale days aren't in line with the true spirit of Thanksgiving. Wouldn't it be nice, after so much spending, to have one calendar day about giving? Well now there is! Empowered by social media and harnessing opportunities of the web, a new event has been added to the roster of Thanksgiving holiday celebrations: GivingTuesday.
Following Cyber Monday, GivingTuesday is set to be a big occasion, should enough people follow the movement. This annual day for giving will contribute and spread a charitable spirit all over the country. Henry Timms from non-profit 92nd Street Y in New York City, has been one of the initiators of this national day of giving, personally wishes a warm welcome to all new partners of the project. GivingTuesday will symbolize a national movement of solidarity driven by a simple goal: giving back together. And well-known corporations and brands such as Microsoft or Skype have been amongst the first getting behind this charitable movement of November 27th and have been key contributors in raising awareness amongst fellow Americans. Since, an impressive number of charities, non-profits and other types of corporations have embraced GivingTuesday by adding their logo to the Partners' directory on GivingTuesday.org.
Acting as base partner, the United Nations Foundation's CEO Kathy Calvin described the initiative as: "…a brilliant idea, because it would engage and excite partners that we've already brought on board to take a basic good idea about giving, but turn it into a network for social good".
Organizing hundreds of fundraising events across the country, the group is still on the lookout for ideas and events that can make a difference in bringing the community together to do some good at the center of the holiday shopping season. Could anyone ever have thought of a better way to spend the savings made on Black Friday?
The initiative is currently being promoted via the website GivingTuesday.org and all major social networks, reminding us that much like Black Friday and Cyber Monday, GivingTuesday's success relies on individual organizations' capacity to leverage their audiences for that specific day. Those who are interested in joining the #GivingTuesday national day can commit to give back to their favorite charity on Nov. 27, 2012, and learn more from the site GivingTuesday.org.
Greg Fournier
Founder of CharityKick, proud Partners of #GivingTuesday
http://www.charitykick.com