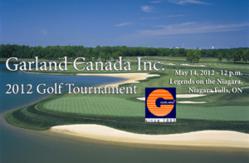 Thanks to initiatives like the Garland Canada Inc. golf tournament, we are able to raise awareness about the prevalence of prostate cancer and the importance of early detection as of age 40
Toronto, Ontario (PRWEB) July 09, 2012
Garland Canada Inc., a full service provider of roof, wall and building envelope solutions for the industrial, institutional and commercial market, in conjunction with several generous sponsors, raised nearly $17,000 during a recent charity golf tournament to help fund research for the cause, cure and prevention of prostate cancer – a disease that affects nearly 1 in 7 men.
The tournament was held at the Legends on the Niagara golf course in Niagara Falls, Ontario, with all proceeds supporting Prostate Cancer Canada, the only national foundation dedicated to the elimination of the disease through research, educational support and awareness. Ninety players participated in the 18-hole scramble tournament held May 14, 2012.
"We were pleased with the turnout and incredible generosity of everyone who helped make this event a tremendous success. In this male-dominated industry, we felt it was important to raise awareness for a disease that is becoming increasingly more prevalent," explains Charbel Boulos, General Manager of Garland Canada.
Prostate cancer is the most common cancer to afflict Canadian men, with rates of incidence and mortality similar to those of breast cancer in women. It is estimated that 1 in 7 Canadian men will be diagnosed with the disease, a number that is expected to rise to 1 in 4 within a decade. Early detection of the disease is critical; more than 90 percent of cases are curable if detected and treated in its earliest stages.
"Thanks to initiatives like the Garland Canada Inc. golf tournament, we are able to raise awareness about the prevalence of prostate cancer and the importance of early detection as of age 40," said Rebecca von Goetz, executive vice-president, marketing and communications, Prostate Cancer Canada. "Community events are a wonderful way for people to get involved and make a difference – we're so thankful to Garland and wish their staff and families good health."
Garland Canada Inc. delivers solutions for today's commercial building industry coast to coast, through representatives strategically located throughout Canada. Founded in 1987 as a fully owned subsidiary of Garland Industries, Garland Canada is a multi-million dollar business which helps stimulate regional economies by working with an extensive network of locally based contractors to install high-performance roofing, wall and flooring systems for the commercial building envelope.
For more information, visit http://www.garlandcanada.com or call 416-747-7995.