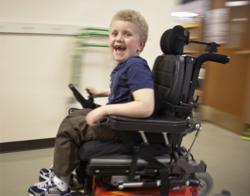 Four Easter Seals' clients age 9 to 15 will be participating in Run for the Kids. Each has been involved in a Monday afternoon program titled, "Hustle for your Health,"
Villa Park, IL (PRWEB) April 27, 2012
Easter Seals DuPage and the Fox Valley Region is holding its 9th annual 5K run/2 mile walk titled, "Run for the Kids," at 9 a.m. Saturday, May 5, starting and finishing at Easter Seals Rosalie Dold Center, 830 S. Addison Ave., Villa Park. Check-in and same day registration will take place from 7:30 to 8:45 a.m. All abilities and skill levels are welcome.
Pre-registration will take place from 11 a.m. to 3 p.m. on Friday, May 4, at Whole Foods Market Willowbrook, 201 63rd St. All pre-registered participants will receive a t-shirt and a Whole Foods tote bag. To register online, visit: http://www.eastersealsdfvr.kintera.org/runforthekids2012
Something special
Four Easter Seals' clients age 9 to 15 will be participating in Run for the Kids. Each has been involved in a Monday afternoon program titled, "Hustle for your Health," run by Easter Seals DuPage Fox Valley Region therapists, to develop long-distance running skills.
"We are so excited about the kids who have been working hard to prepare for the Easter Seals' Run for the Kids 5K race this year," said Easter Seals Physical Therapist Laura Basi.
The program was developed to promote the idea that physical fitness is important for everyone including children and adolescents with developmental disabilities. Running, a weight-bearing aerobic activity, promotes cardiovascular and respiratory endurance, bone health, lower extremity strength and endurance, symmetry of movement in both upper and lower extremities, and emotional regulation. These are all areas that children with special needs can improve.
"This is the first year we have offered this program," Basi said. "The program is open to kids with a variety of disabilities, but it ended up that the four participants all have some form of cerebral palsy."
The format of the ten-week program includes a dynamic warm-up, outdoor aerobic activity in the form of running and walking, discussions about fitness related topics and stretching to cool down.
Each week builds from the previous week's workout. The kids meet together with the therapists once a week to complete the workout. They work out two additional times on their own with the assistance of a friend or family member.
"We have been so impressed with each participant's dedication to the program," Basi said. "The Run for the Kids race is their first 5K. We - the therapists - are so proud of them. Each has dramatically improved in some way, either in overall endurance, more efficient running pattern, more positive attitude towards fitness, or all of the above."
Fun for all
Trophies will be awarded and following the race, there will be fun activities for the entire family: a Kids' Dash, entertainment with a DJ, face-painting and a silent auction with great prizes.
Funds raised by the race will benefit the mission of Easter Seals DuPage and the Fox Valley Region to enable infants, children, and adults with disabilities to achieve maximum independence and to provide support for the families who love and care for them.
Since 1952, Easter Seals DuPage and the Fox Valley Region has been helping children and adults with disabilities walk, sit up, ride a bike, and say "I love you" for the first time. Services include physical, occupational, speech-language, nutrition and assistive technology therapies. Additional services include audiology services for all ages, community outreach programs, social services, specialty clinics such as the new the Autism Diagnostic Clinic, and The Lily Garden, an inclusive child care center.
For more information, call 630-620-4433.