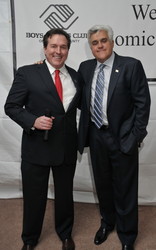 DiNardo & Lord Auctioneers is ranked as one of the top four fundraising auction firms in the United States.
Seattle, WA (PRWEB) May 3, 2010
Since 1993, DiNardo & Lord Auctioneers has raised more than 50 million dollars for charities. The firm's owner and senior charity auctioneer, Tom DiNardo, has personally provided fundraising consulting and benefit auctioneer services to more than 1,700 charity auctions for various non-profits, charities, and community organizations across the United States during his successful career. Mr. DiNardo is recognized as an outstanding professional fundraiser in Who's Who in America annual publication and he holds five world records for auction item prices achieved at auction. He is also a certified master appraiser and sommelier diplomate. According to the print media, "DiNardo & Lord Auctioneers is ranked as one of the top four fundraising auction firms in the United States."
To what does he most attribute his company's success? Expert charity auctioneer Tom DiNardo offered the following explanation. "DiNardo & Lord Auctioneers offers our clients the best fundraising consulting services available. We work with our clients up to one year prior to the event, identifying challenges, providing solutions, and freeing up hidden revenue." Those people working for DiNardo & Lord Auctioneers are committed to helping their nonprofit clients to achieve the best results possible for their special event fundraisers, according to DiNardo. "We have presided over huge special events and charity auctions, working with luminaries like Jay Leno, Yogi Berra, and Tyler Florence, but what most motivates me is our clients' passion to take their event to the next plateau." DiNardo & Lord Auctioneer's clients can choose auction services packages with a minimum of eighteen hours to packages that provide well over one hundred hours of fundraising consulting services.
Tom DiNardo states, "DiNardo & Lord Auctioneers is a professional fundraiser's one stop shop and a development officer's dream come true!" This charity auction firm delivers to their clients fundraising consultation covering topics such as creating a world class live auction, the perfect silent auction, the special appeal program (a.k.a. Fund-A-Need Program), and raffle programs. More importantly, DiNardo & Lord Auctioneers helps the client plan and create the optimum event design and layout, as well as creating an effective, problem free event time line. "Event design and the time line are the most critical aspects of a special event fundraiser. These two items can either negatively influence or have a tremendous positive impact on the event results."
Additionally, DiNardo & Lord Auctioneers provides their nonprofit clients with certified appraisal and wine consulting services. Tax law changed in 2007, and the IRS lowered the amount of an individual's charitable tax deduction from $5,000 dollars now down to only $500 dollars. Gone are the days of once-accepted donation letters in kind from charities! "An individual writing off more than $500 dollars as a charitable tax deduction on their 1040 tax return will need to have a certified appraisal accompany their tax return and we provide this service," states DiNardo. DiNardo & Lord Auctioneers also provides their clients with the invaluable service of wine consulting. "To date I am the only fundraising auctioneer in the nation who is a certified sommelier. Our charity wine auction clients make very good use of this skill set."
DiNardo & Lord Auctioneers is known for delivering to their clients minimum revenue increases of 25% to 50% per event each year. Even more impressive is the fact that Mr. DiNardo's company presides over almost twenty events each year in which his clients experience net profit increases far in excess of 100%, with increases of 200% and even 250% not being uncommon. "Successfully promoting charitable giving through fundraising auctions," is what DiNardo & Lord Auctioneers is known for, according to benefit auctioneer Tom DiNardo.
Despite the down economy of the last two years, with charities across the nation reporting decreases in public attendance and the decline of sponsorship dollars, DiNardo & Lord Auctioneers has set records at each and every one of their events in both 2008 and 2009 with the trend continuing this year in their current charity auction calendar. Tom DiNardo proclaims, "DiNardo & Lord Auctioneers is not an expense, but an investment in the success of your nonprofit special event fundraiser."
###