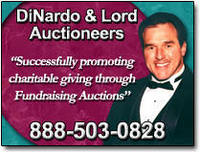 Successfully promoting charitable giving through fundraising auctions.
Lynden, WA (PRWEB) November 3, 2008
DiNardo & Lord Auctioneers has launched their new fundraising Web site created specifically for nonprofits and charities. The new Web site now offers many more features, tools, and fundraising ideas for their existing and prospective charity auction clients. Many free fundraising tools, such as their Charity Auction Timeline and Charity Auction Item Ideas List, are available to download, as well as other popular features such as the Benefit Auctioneers News page.
Since 1993, DiNardo & Lord Auctioneers has earned an outstanding reputation for achieving record charity auction revenues for their nonprofit and charity clients' fundraisers. In their nearly sixteen year history, DiNardo & Lord Auctioneers has created and presided over 1,200 plus highly lucrative and extremely successful fundraising auctions for their nonprofit patrons nationwide. According to DiNardo & Lord Auctioneers founder and CEO Tom DiNardo, "Unheard of benefit auction increases of at least 25% to 50% are virtually guaranteed through our fundraising consultant services and charity auctioneer performances. Each year dozens of clients report profit increases in excess of 100%."
Even more remarkable is the fact that during this professional fundraising auction firm's amazing history, DiNardo & Lord Auctioneers has performed at least two dozen celebrity auctions that have grossed over 300% and quadrupled their fundraising client's previous year's result. This charity auction firm truly lives up to their slogan, "Successfully promoting charitable giving through fundraising auctions."
Tom DiNardo is one of the most sought after charity auctioneers in the United States, and just keeping up with him can be a daunting task. He has raised over $35 million alone for charities during his notable career. Mr. DiNardo was recently recognized as an outstanding professional fundraiser when his biography was selected for publication in this year's edition of Who's Who in America. "My company's success is based upon not only providing a great charity auctioneer service, but also providing the nation's most extensive charity auction services package totaling at least eighty hours," said DiNardo.
Tom has pioneered many fundraising trends such as the development of avant garde Fund-A-Need programs and charity auction themes that are now widely accepted in the fundraising auction industry today. He is credited with being the first charity auctioneer in the nation to join the Association of Fundraising Professionals in advocating for their professional fundraiser's code of ethics, and he is also the first and only celebrity auctioneer in the nation to acquire his sommelier diploma and master appraiser credentials. The Center for Nonprofit Success recently selected Tom DiNardo to speak about the topic of Special Events Fundraising at their upcoming Denver, Colo. and Philadelphia, Pa., Fundraising Summits held later this month.
DiNardo & Lord Auctioneers clients fit into three fundraising demographics. Tom DiNardo reports, "The largest demographic we serve is fundraising events that gross between $150,000 and $500,000. The second largest demographic is $149,000 and under, and the smallest elite group are those fundraisers grossing $500,000 or more." This charity auction firm is undisputedly focused on providing terrific service to nonprofits, charities and volunteer based community groups.
According to Tom DiNardo, "The ultimate focus of DiNardo & Lord Auctioneers is to work with those nonprofit clients who are enthusiastic and passionate about growing their fundraising events and making them better than ever before." The new DiNardo & Lord Auctioneers web site is designed to provide relevant fundraising consultant services as well as educational information for all interested charities and nonprofits looking to excel in the area of fundraising.
###