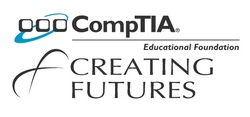 The Creating Futures Charity Golf Classic allows IT executives to jumpstart their networking opportunities at Breakaway, while also funding this valuable program to bring more IT workers into the industry
Oakbrook Terrace, IL (Vocus) February 10, 2009
The CompTIA Educational Foundation announced its Third Annual Creating Futures Charity Golf Classic to be held Monday, August 3, at the Rio Secco Golf Club in Las Vegas, Nev., with Xerox Corporation as a title sponsor.
Proceeds from the charity event will benefit the Foundation's Creating Futures program which provides training and certification opportunities to populations who have historically been under-represented in the information technology (IT) workforce, including U.S. veterans, individuals with disabilities, women, minorities, at-risk youth and dislocated workers. Creating Futures works with employers to identify their hiring needs, then tailors its training to help individuals obtain the skills employers require.
The Creating Futures Charity Golf Classic will be held in conjunction with Breakaway 2009, the premier education and networking event for the IT industry, running August 3-6 at the Mirage Resort & Casino in Las Vegas.
"The Creating Futures Charity Golf Classic allows IT executives to jumpstart their networking opportunities at Breakaway, while also funding this valuable program to bring more IT workers into the industry," said John Venator, president and chief executive officer, CompTIA Educational Foundation. "We are especially pleased to have an innovative leader such as Xerox support the Golf Classic again this year, enabling Creating Futures to help more individuals pursue IT careers."
Designed and built by Rees Jones, Rio Secco Golf Club is legendary among local residents and avid golfers alike for its tremendously challenging course layout.
"More than 20 sponsors and nearly 100 industry executives met on the links at last's year Golf Classic, as we kicked off the festivities for Breakaway, and Xerox gained worthwhile networking time with our key customers," said Gary Gillam, vice president, channel operations, Xerox North America, and chair of the Creating Futures Leadership Council. "I look forward to golfing at Rio Secco this August and invite the rest of the industry to join in and support Creating Futures."
Sponsorship opportunities for the Creating Futures Charity Golf Classic are available. For more information, visit http://www.comptiaeducationalfoundation.org.
About the CompTIA Educational Foundation
The CompTIA Educational Foundation provides career opportunities for individuals who historically have been under-represented in the IT workforce. With the support of individuals, industry leaders, companies and the government, the Foundation creates programs aimed at helping U.S. veterans, at-risk youth, women, minorities, dislocated workers, and individuals with disabilities to obtain the technical and business skills employers require. Since its creation in 1998, the Foundation has helped more than 1,000 individuals enter the IT workforce, helping the industry alleviate its shortage of skilled workers. For more information or to make a donation to the CompTIA Educational Foundation, visit http://www.comptiaeducationalfoundation.org.
About CompTIA
The Computing Technology Industry Association (CompTIA) is the voice of the world's information technology (IT) industry. Its members are the companies at the forefront of innovation; and the professionals responsible for maximizing the benefits organizations receive from their investments in technology. CompTIA is dedicated to advancing industry growth through its educational programs, market research, networking events, professional certifications, and public policy advocacy. For more information, visit http://www.comptia.org.
About Xerox Corporation
Xerox Corporation is the world's leading document management technology and services enterprise. A $17 billion company, Xerox provides the industry's broadest portfolio of color and black-and-white document processing systems and related supplies, as well as document management consulting and outsourcing services.
Contact:
Lisa Fasold
Communications
CompTIA Educational Foundation
703-509-1124
# # #