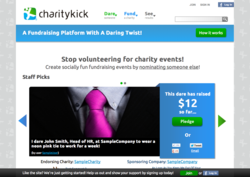 CharityKick is for everyone: Dare anyone from a friend to a celebrity to do anything for a good cause. And pledge to the endorsing charity to make it happen!
(PRWEB) October 12, 2012
CharityKick is a small new website with a simple model, offering only dares. Unlike other crowd funding sites, charities only gets the money from the dare if it actually takes place, so everyone involved has a stake in getting the person who has been dared to make good on the challenge.
This promotes unusual or wacky dares, such as daring NBA basketball player Kobe Bryant to shoot all free throws of a game eyes shut, on which pledges can mount up quickly, along with publicity and hype. The more money that is pledged, the more likely it is that Kobe will hear about it, and even be persuaded to carry it out.
Anyone can get involved in CharityKick by daring anyone from a friend to a celebrity to do something crazy, or by searching the site to find a dare they like the sound of and pledging money to it in a bid to make it happen.
The goal is to get dares realized, and the amazing donations that have been made recently on sites from JustGiving through to Kickstarter, demonstrate how fundraising is moving and innovating online.
CharityKick, and the developers behind it, take no commission on pledges and it is entirely free for charities to use. Only charities can collect the proceedings, so those dared and those pledging can act knowing they are doing only good for good causes. Businesses have the opportunity to sponsor all charity dares, attaching their name to a good cause and helping with charity raise even more, so there truly is a way for everyone to get involved and do good.
So the only question remaining is just how far is the world from watching Kobe shooting eyes shut for cancer research? Or why not Russell Brand with short hair for homelessness? Or even a boss with a pink tie for Rescue Services? Or a teacher with blue hair for Heart Diseases? Find out for yourself at: http://www.charitykick.com.