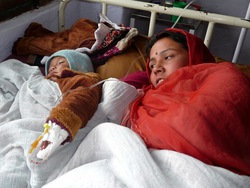 Many of our clients are seeking to 'make a difference' and to have more interaction with the communities they encounter when on holiday.
South Pasadena, CA (PRWEB) September 14, 2010
Saffron Road Motorcycle Tours announces their international 'Wheels Within Wheels' motorcycle charity ride, Nepal 20th November – 4th December 2010 benefiting local Nepalese charities the Sewa Kendra Leprosy Relief, and 'Little School On The Roof'.
Saffron Road Motorcycle Tours (SRMT) has always donated a percentage of its profits to charities and community projects in the countries where it operates motorcycle tours. Having ridden through some of the world's more remote areas, it became clear to the principal that many of these communities lack basic services or community aid development, and that the company and its clients could make a difference.
"Having toured to these communities for so many years, we at Saffron Road see it as our responsibility to help initiate awareness and support. That is why we started the 'Wheels Within Wheels' charity motorcycle rides," announces Phillipa Saxton (Saffron Road Founder and Director). "Many people donate money to large charities with no way of knowing exactly where that money goes. By joining one of our motorcycle charity rides people can enjoy a great holiday while seeing precisely where every cent of their collected donations is spent. Our clients actually visit the projects and meet the people."
After a visit to Nepal early in 2010, SRMT chose the Sewa Kendra Leprosy Relief and its 'Little School on the Roof' as the 'Wheels Within Wheels' November 2010 ride beneficiaries. "Few other people are as ostracized as those inflicted with leprosy (Hanson's Disease)," explains Ms Saxton. "The sad thing is the disease is totally curable with a course of antibiotics, and many of the damaging and disfiguring effects can be reversed or alleviated by wound care and/or surgery. It is more than unfortunate that many people who contract leprosy go undiagnosed until the disease has taken hold and caused severe ulcers and deformity. The deep-seated fear of the disease in remote uneducated communities results in the poor victim being excommunicated by their families and village community, so they become destitute are forced to beg for a living."
Funds directed to the Sewa Kendra Leprosy Relief will help buy equipment such as prosthetic aids and much needed generators to power the hospital which only receives mains power four hours a day.
Additionally, a portion of funds will be distributed to the 'Little School on the Roof'. Quite literally, this small two-room pre-school and after school care centre catering to the children of leprosy patients, is on the roof of the two-storey hospital. "Currently, the school is built of corrugated iron, has no insulation, no fans and no heating ~ and only a 'safety' rope around the roof perimeter to stop children falling off! With the efforts of our clients, we can help build a wall around the roof, classrooms can be insulated, and educational equipment can be purchased."
"Our charity motorcycle rides really are a win/win scenario," said Saffron Road's Kelsey Bray. "We have found many of our clients are seeking to 'make a difference' and to have more interaction with the communities they encounter when on holiday. By putting together clients with people in marginalized societies we can help meet both their needs. It's a great relationship."
Other charity rides in the planning phases include supporting a school and medical center in Cambodia, the building of hostels for Pakistani and Nepalese girls wanting to continue their education, an orphanage and a women's refuge in Darjeeling and vocational training for motorcycle mechanics in Mongolia.
Learn more about how to book, donate, raise funds and volunteer at 'Wheels Within Wheels' Nepal charity ride.
Images of the beneficiaries are available for viewing at http://bit.ly/sewakendra and general Nepal motorcycle tour images at http://bit.ly/SRnepal. High-resolution images are available on request.

ABOUT SAFFRON ROAD MOTORCYCLE TOURS
Saffron Road Motorcycle Tours offers all-inclusive, fully escorted motorcycle tours to remarkable destinations around the globe. Small group sizes allow the company to deliver a high level of personalised service. It provides scheduled tour departures for individuals or customized tours for clubs and groups.
###