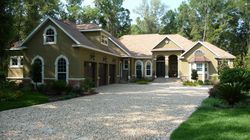 We had homes in the ground that needed to sell and we got scared. Jerrell and I both have been in the real estate business all of our lives and we have never seen such a crash in the market.
Ocala, FL (PRWEB) September 1, 2009
Wisdom of the Ages Worldwide, Inc. (WOTAW), a new non-profit organization focused on the needs of widows and widowers, is pleased to announce their upcoming charity raffle of a custom furnished, Ocala, Fl.-based home and 2005 Mercedes SL 500 (or cash equivalent). The custom home, completed in August 2008, includes beautiful furniture from North Carolina. Tickets for the raffle are only $10 each, and are available for purchase at WOTAW.com.
The current owners of the home, Cheri and Jerrell Bass, originally moved to Ocala with a dream of owning some land, growing a garden, buying some horses and building their dream home. Jerrell, a custom-home builder, saw Ocala as a great opportunity to build his custom homes. Recently the couple decided to sell their homes and move back to Orlando to care for family. Unfortunately, the Basses have been desperate to sell their home but unable to do so during the current housing market slump. "I have been so frustrated and exhausted in trying to sell my home," Cheri said. "I'm homesick and I need to get back to Orlando where my family lives and help take care of my mother."
Cheri continued, "We had homes in the ground that needed to sell and we got scared. Jerrell and I both have been in the real estate business all of our lives and we have never seen such a crash in the market." The couple struggled to market the homes they had to sell. They were able to sell some of their inventory of homes, but with severe losses. "We had to get the assets off our books and fast," Jerrell said. "Now we are down to this last custom home with no future homeowners looking or making any offers."
Then the couple happened to hear a story similar to theirs on the radio. A family in Maryland needed to sell their home and teamed up with a charity organization to raffle off their home. "It sparked our interest right away," Cheri said. "I thought it was a creative way to unload a home and help a charity. To me, it seemed to be a win-win." Jerrell added, "At least we could be proactive during these tough economic times, instead of just sitting here doing nothing."
Charity home raffles are hardly an easy task to undertake. State regulations make holding a private raffle for a house or land illegal unless the homeowner has a non-profit organization as a partner in raffling off the home. The homeowner cannot make more than the appraised value of the house. "We are not looking to make tons of money in this market, we just want to pay off our debt and get back to our family," Cheri said.
So the Basses chose to team up with Cheri's mother's non-profit organization, WOTAW, to raffle off their home. They turned to the grassroots organization because it focuses on the needs of widows and widowers, a cause that is close to Cheri's heart. Cheri, whose mother is a widow, lost her dad 21 years ago to cancer; he was only 46. "I watched my mom, Marilyn K. Crockett, struggle as a young widow to keep her family together," she says. Ms. Crockett later founded WOTAW to help other widows and widowers who are struggling just as she was.
The non-profit proceeds from this raffle will help widows and widowers in their time of need. The funds raised will provide transportation, food, medication, handyman services, grief counseling and many other much-needed services. Also, the proceeds may help someone in need keep their home.
The drawing will be held as soon as all tickets have been sold, or on 01/01/2010 at 6:45 p.m. EST. Per the raffle's Official Terms and Rules, if the maximum number of tickets (150,000) is not sold, WOTAW will have a 50/50 cash prize awarded to the winner based on the number of tickets sold. Fifty percent benefits the charity and 50 percent goes to the winner. For more information or to purchase tickets for the raffle, visit http://wotaw.com/RaffleOverview.asp .
About WOTAW
Wisdom of the Ages Worldwide founder Marilyn K. Crockett learned through the years how to survive as a widow and decided to help others by sharing her knowledge. Ms. Crockett was alone and financially burdened after she lost her husband. "The only services I could find were dating services, and that was not what I needed at the time of my husband's death," she said. "In my time of need, I was taken advantage of and there was no one professionally that I could trust with my legal and financial questions. That was only the beginning of the lies and deceit that I experienced as a widow trying to keep my family together." That's where Wisdom of the Ages Worldwide can help. "WOTAW is there to help those in their time of grieving, as they adjust to life without a loved one," Ms. Crockett said.
For more information about Wisdom of the Ages Worldwide, Inc., visit http://www.wotaw.com.
# # #