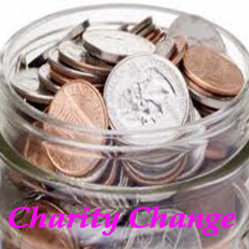 Charity Change App collects online donations for your organization, school, college, church, foundation or non profit.
Columbus, Ohio (PRWEB) January 30, 2013
Announcing the launch of Charity Change App by Cuptoopia.com, Inc. This application was developed to provide a unique way to collect online donations by allowing businesses to support charities, schools, foundations, colleges, churches and non-profits, without said businesses having to directly donate their own money.
Charity Change App helps organizations or institutions raise online donations to meet their fundraising goals by enabling online customers to support a cause simply by clicking on a logo. Organizations that subscribe are able to utilize Charity Change App technology to generate software code that turns their company's logo into a clickable link for online donations.
Donation seeking organizations request the support of eRetailers who must agree to support them by placing their logo on their website, where their Online customers can donate directly to their causes and have the funds immediately deposited into their Paypal.com account.
This new approach to online donations simultaneously allows companies to promote their brands while generating funds for a good cause and cultivating positive online visibility for their company. Given that last year on Cyber Monday 2012, Online e-Retailers broke all previous records, when shoppers spent a record $1.98 billion, which increased over last year's total to $740 million, the potential for online donations has never been higher.
Charity Change App was developed by Charles E. Campbell, Founder and CEO of Cuptoopia.com, Inc. He is an inventor, innovator and entrepreneur with a goal of eliminating global poverty.
To learn more about this application, Watch the Charity Change App Youtube Commercial. To purchase Charity Change App visit their website at http://www.CharityChangeApp.com