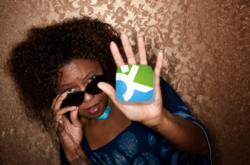 Eva Mendez might wake up one day with a CharityKick dare to get caught picking her nose in a live interview...
(PRWEB) October 19, 2012
Everyone knows that celebrities often like to get their name in the news for charitable or humanitarian gestures while at the same time believing that the paparazzi are the bane of their lives. Well, a new charity fundraising website just might help them kill two birds with one stone, and get some excellent publicity to boot. CharityKick is a fun fundraising platform that raises money for charities by promoting dares in the US and UK.
The site allows people to dare anyone to do anything, and all donations then go to make the dare happen, with the funds only being released to the charity when it does. So how does it affect celebrities? Simply, CharityKick allows the average Joe to dare his or her colleagues, boss, friends, teachers, but also any local or international celebrity to do crazy things. So Eva Mendez might wake up one day with a dare to get caught picking her nose in a live interview.
While celebrities may not be too keen to do the dare at first, a growing amount of money locked away from the charity until they do, coupled with lots of publicity around the most unusual and lucrative dares, just might help them change their mind. And if the paps get tricked into thinking they've got the picture of a lifetime while the dare is being carried out, then that's all to the good. This effectively turns the site into a charity fundraising events marketplace for charities.
CharityKick is currently looking for charities to endorse dares at no cost and allow people to pledge to their cause to make them happen! It is hoped that the general good spirit of the dares and the worthiness of the charities that will endorse them make CharityKick a great place to start giving and have fun at all ages, with incredibly entertaining and profitable results for both charities and dare performers.
So join the fun and get daring for a good cause at http://www.charitykick.com.
CharityKick is a privately held partnership based in London, UK.
It is made up of a small group of young entrepreneurs - friends who believe charity dares can bring more people to give and have fun. They wanted to give people a channel to voice their own wants with almost no limits, and as a result, they've decided to invest themselves and their money into the creation of the site and its promotion.
12 Fawcett Street, London, SW10 9JD, UK