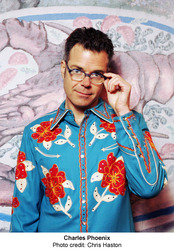 Downey is full of pop culture legends and landmarks.
Downey, CA (Vocus) March 9, 2010
Join comedian and pop culture expert Charles Phoenix on an all-new field trip adventure. Charles Phoenix's "Up with Downey" Tour, a 5-hour Up with bus and walking tour of America's greatest space age suburban city, Downey, CA, takes place on Saturday, March 27 from 12 pm to 5 pm.
"Downey is full of pop culture legends and landmarks," says Phoenix, who is best known for his 'Disneyland' tour of Downtown Los Angeles and Retro Slide Show performances. "It's the home of the world's oldest operating McDonald's. It's where pop music's most successful duo, The Carpenters, lived, and where Karen died. Also where you'll find their 'Only Just Begun' and 'Close to You' apartments. The Apollo command module, which safely transported man to and from the moon six times, was designed and built in Downey. Those are just some of the reasons I call Downey 'America's Greatest Space Age City.'"
"But it was the rise-and-fall and rise-again story of Downey's famous, 1950s googie style drive-in-carhop-coffee-shop that inspired my 'Up with Downey' tour," he continues. "It was originally called Harvey's Broiler when it opened in 1958, then in 1968 it became Johnie's 'Fat Boy' Broiler. According to custom car and hot rod historians, from the day it opened this was the place to see and be seen in your car in the heyday of American car culture, the 1960s. Long outliving virtually all other legendary SoCal cruise spots, the classic coffee shop finally closed in 2002. Ironically, it then became a used car lot. In 2007 the beloved building was partially demolished. Then last fall, against all odds, the hot rod hot spot was faithfully restored and reopened, carhops and all, as Bob's Big Boy Broiler. Googie miracles really do happen."
Architecturally, Downey is a mid-century suburban smorgasbord of googie landmarks, sprawling ranch homes, designer office buildings and deluxe dingbat apartments. But Downey isn't all about the space age. Hidden away in the corner of city is a virtually undiscovered ghost town of amazing 1880s-1920s buildings in an enormous giant tree garden setting - all remains of the Los Angeles County "Poor Farm," founded in 1888. According to Charles, "You have to see it to believe it."
Other stops on the tour include the Downey Historical Society Museum and a meeting with "Miss Downey."
Charles Phoenix is known for his fun-filled School Bus Field Trip Tours live, hilarious Retro Slide Show performances, crazy kitchen experiments and colorful coffee table books. He offers a hip and highly original take on kitschy and classic American culture. Fans from coast to coast enjoy his infectious enthusiasm, gracious sense of humor and keen eye for detail. Charles is a recurring correspondent for KPCC's Off Ramp and guest on The Martha Stewart Show. The LA Weekly chose Charles for the cover of its 2008 People issue, calling him the "Kodachrome King." In January, 2009, Charles was honored to be the Grand Marshal of the 32nd Occasional Doo Dah Parade.
Charles Phoenix's "Up with Downey" Tour takes place on Saturday, March 27 from 12 pm - 5 pm. The tour begins and ends at Bob's Big Boy Broiler, 7447 Firestone Blvd., Downey CA 90241. Free tour parking in Bob's auxiliary parking lot. Tickets are $75.00 and include bus transportation and museum admission. Lunch at the world's oldest McDonald's is no host. For more information and to purchase tickets, go to http://www.charlesphoenix.com.
Contact (for media only):
Lucy Pollak
(818) 887-1499
###