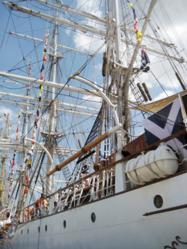 Charleston, SC (PRWEB) May 04, 2011
Few periods in the history of sea faring have matched the grandeur of the tall ship era, when the intricate riggings and distinctive sails cut a majestic figure on the horizon. The Charleston Harbor Fest 2011 will pay homage to this Age of Sail with a harbor-wide celebration from Thursday, May 12, through Sunday, May 15, 2011.
Hosted by the South Carolina Maritime Foundation, one of the festival's main attractions is the Velux 5 Oceans, a yacht race around the world that takes competitors to five ports on five continents, including a North American stopover in Charleston. The Harbor Fest also boasts a roster of other family-friendly events including ship tours, a Kids' Zone, interactive Education Village and pirate encounters.
ResortQuest® by Wyndham Vacation Rentals, the leading provider of vacation rentals in the Charleston area, offers travelers to the popular maritime festival reduced rates when booking a rental property online at the sea islands of Isle of Palms, Seabrook and Kiawah. These island getaways conveniently flank the entrance to Charleston Harbor, giving guests easy access to the festival's events.
Skippers of the world-renowned Velux 5 Oceans Race have already made port in Charleston, completing the fourth of five legs of the race. Now, the challengers rest and wait for May 14 when they will leave on Ocean Sprint 5, marking the final leg of the race and also the first time ever that the race's re-start coincides with Harbor Fest's 9-year history.
About ResortQuest® by Wyndham Vacation Rentals
Headquartered in Fort Walton Beach, Fla., ResortQuest by Wyndham Vacation Rentals is a leading provider of full-service vacation condominiums and home rentals in the U.S., with a portfolio of approximately 6,000 U.S. vacation rental properties. For more than 20 years, ResortQuest has provided full-service vacation condominiums and home rentals in the most desirable beach, ski, golf and tennis resort destinations across North America. Visit http://www.resortquest.com for additional information.
###