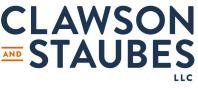 Being recognized as a Tier 1 law firm in by US News and World Report is a terrific honor
Charleston, S.C. (PRWEB) February 22, 2013
Clawson & Staubes, a law firm headquartered on Daniel Island with offices in Greenville and Charlotte, was recently recognized by the national publication, U.S. News - Best Law Firm® for the 2013 edition. The firm received a Tier 1 ranking in the 2013 edition of U.S. News - Best Lawyers "Best Law Firms" for bankruptcy. For more than a quarter century, Best Lawyers has been regarded as the definitive guide to legal excellence in the United States.
The U.S.News – Best Lawyers "Best Law Firms" rankings are based on a rigorous evaluation process that includes the collection of client and lawyer evaluations, peer review from leading attorneys in their field and review of additional information provided by law firms as part of the formal submission process. All of the quantitative and qualitative data were combined into an overall "Best Law Firms" score for each firm. This data was then compared to other firms within the same metropolitan area and at the national level. The first tier in each metropolitan area includes those firms that scored within a certain percentage of the highest-scoring firm(s).
"Being recognized as a Tier 1 law firm in by US News and World Report is a terrific honor," says Sam Clawson, managing partner of Clawson and Staubes. "It is a real testament to Ron Jones who established our commercial law/bankruptcy section in 1992. Under his leadership, the attorneys in that section are recognized by other attorneys for 'expertise, responsiveness, understanding of a business and its needs, cost-effectiveness, civility and whether they would refer another client to the firm.' I could not be any prouder of Ron and those attorneys."
Clawson & Staubes was also recently recognized for three attorneys receiving "Best Lawyer" awards by the same publication, a pre-requisite for being named "Best Law Firm."
About Clawson & Staubes
Headquartered on Daniel Island, Clawson & Staubes, has been providing legal services to the Charleston area for 37 years. Clients range from large insurance companies to local banks, small business owners and individuals. The firm currently employs 38 attorneys and 52 support staff and has offices in Charleston, Charlotte and Greenville. For more information about Clawson & Staubes, visit http://www.clawsonandstaubes.com.