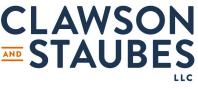 Headquartered on Daniel Island, Clawson & Staubes, has been providing legal services to the Charleston area for 37 years. Clients range from large insurance companies to local banks, small business owners and individuals
Charleston, SC (PRWEB) April 26, 2013
Clawson & Staubes', a law firm headquartered on Daniel Island with offices in Greenville and Charlotte, attorneys Sam Clawson and Ron Jones recently made the 2013 Super Lawyers list. Five other attorneys, Christy Fargnoli, Kristen Nichols, Brittany Boykin, Barrett Brewer and Natalie Fisher, were named Rising Stars - a list of the top up-and-coming attorneys in South Carolina.
Super Lawyers, a Thomson Reuters business, is a rating service of outstanding lawyers from more than 70 practice areas who have attained a high degree of peer recognition and professional achievement. Each year, no more than 2.5 percent of the lawyers in the state receive this honor. The annual service selections are made using a rigorous, multi-phased process that includes a statewide survey of lawyers, an independent research evaluation of candidates and peer reviews by practice area. The Rising Stars lists are published nationwide in Super Lawyers magazines and in leading city and regional magazines across the country.
Sam Clawson has served as the managing member of Clawson and Staubes for the past 27 years. He is active in the tort defense of individuals, partnerships and corporations. As a certified mediator, Clawson has an interest in alternative dispute resolution and was a pioneer in the development of binding summary jury trials as an alternative to binding arbitrations. In addition to his AV rating from Martindale, he has also been named by Best Lawyers® as the 2013 Insurance Lawyer of the Year.
Ron Jones, a certified specialist in bankruptcy and debtor-creditor law, established the commercial law and bankruptcy section at Clawson and Staubes in 1992. He is an active member of many groups including the SC Bankruptcy Law Association, the Commercial Law League of America and the American Bankruptcy Institute. Additionally, Ron holds an AV rating from Martindale Hubbell and is one of the top bankruptcy specialists in the Charleston area.
For more information about Super Lawyers, please visit superlawyers.com
Christy Fargnoli, an associate attorney at Clawson and Staubes practices in the area of general civil litigation, with concentrations in insurance defense, business litigation and municipal law. She represents individuals, insurance carriers, businesses and municipalities in both state and federal courts.
Kristen Nichols joined Clawson and Staubes in 2006. Her area of practice focuses on consumer, corporate and commercial law, bankruptcy, foreclosure and general civil litigation.
Brittany Boykin specializes in civil litigation, defending the interests of insurance carriers and the individuals they insure. More specifically, her practice focuses on personal injury litigation, transportation and trucking matters.
Barrett Brewer joined the firm in 2002 and has been named a Rising Star for the second year in a row. Barrett's litigation practice focuses on business and contract disputes, business property and trade secret disputes, banking and lender liability, real estate and property disputes, product and commercial liability claims, and negligence claims.
Natalie Fisher, associate attorney with Clawson and Staubes, practices primarily in the areas of general civil litigation and workers' compensation defense. Natalie was honored on the 2012 South Carolina Rising Stars list as one of the best young lawyers in the state in the area of workers' compensation.
About Clawson & Staubes
Headquartered on Daniel Island, Clawson & Staubes, has been providing legal services to the Charleston area for 37 years. Clients range from large insurance companies to local banks, small business owners and individuals. The firm currently employs 38 attorneys and 52 support staff and has offices in Charleston, Charlotte and Greenville. For more information about Clawson & Staubes, visit http://www.clawsonandstaubes.com.