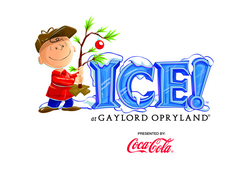 Isn't there anyone who knows what Christmas is all about?
Nashville, Tenn. (Vocus) October 21, 2009
With only one month to go until the opening of the only ice sculpture attraction in the world telling the story of A Charlie Brown Christmas, the family of the late and legendary Charles Schulz is preparing for a visit to Nashville, Tenn. It is there that artisans from Harbin, China are busy carving 2 million pounds of ice at Gaylord Opryland Resort's A Country Christmas. When the 40 carvers are finished, thousands of giant blocks of ice will have been transformed into a larger-than-life ice sculpture storybook telling the story of A Charlie Brown Christmas by Charles Schulz. Members of the Schulz family will be the first to experience ICE during a private tour before it opens to the public November 20, 2009.
"We've all seen an ice sculpture, we've all seen carvings, but I think to see room after room of these Charlie Brown Ice sculptures is going to be mind boggling. I think that when it comes to these ice sculptures that they are going to be perfect and [Charles Schulz] would have loved them all," said Jeannie Schulz, wife of the late Peanuts cartoonist Charles Schulz.
A Charlie Brown Christmas, one of America's most successful TV Christmas classics, is being brought to life in frozen form at Gaylord Opryland's Gaslight ICE! Theater, in an attraction called ICE! featuring A Charlie Brown Christmas. The colorful, interactive ice sculpture world will tell the story of Charlie Brown and his friends as he asks, "Isn't there anyone who knows what Christmas is all about?," and they discover the answer together.
Jeannie Schulz along with Charles Schulz's son Craig will be on hand to experience ICE! featuring A Charlie Brown Christmas, when it is complete. They discuss the project, and Charles Schulz on a video that can be seen at http://j.mp/18rwt6 which was recorded at the Charles Schulz Museum and Research Center in Santa Rosa, California.
"Undoubtedly my Dad would have loved it because basically anything that was about art he loved whether it was ice carving, drawing, painting…he was fascinated by art. So for someone to take his comic strip and translate it into ice sculptures I think would have fascinated him on numerous levels. Now for it to come to Nashville, I am thrilled," explained Craig Schulz, son of Charles Schulz.
"We are proud to partner with Gaylord Opryland Resort to bring the public ICE! featuring A Charlie Brown Christmas," said Helene Gordon, VP of Peanuts Worldwide at United Media, the licensing and syndication company for Peanuts. "Each holiday season, fans of all ages look forward to watching A Charlie Brown Christmas, and having a chance to see it brought to life with ICE! will truly be a wonderful and unique way to celebrate this time of year."
It will take a team of 40 artisans 40 days of around-the-clock work to transform thousands of 350 lb. blocks of ice into the Peanuts characters' sculptures, slides and entire rooms that are literally constructed of ice. The attraction is constructed inside the theater on the Gaylord Opryland property that is kept chilled at 9 degrees.
ICE! featuring A Charlie Brown Christmas opens Nov. 20, 2009, and runs through Jan. 2, 2010. It will be open seven days a week with times ranging from 10 a.m. to 10 p.m., depending on the day of the week. Ticket prices range from $13 (child) to $24 (adult), depending on the day. Children ages 3 years and under are allowed entrance for free.
Enjoy breakfast with Charlie Brown, too
Peanuts lovers can have breakfast with Charlie Brown, too, in Gaylord Opryland's beautiful Garden Conservatory Atrium's Ristorante Volare. Children and adults will enjoy the wide range of delicious buffet items created with A Charlie Brown Christmas in mind. And Charlie will visit the tables, share hugs and happily join his new friends for photographs.
Breakfast with Charlie Brown is available Saturdays and Sundays during A Country Christmas from 7 a.m. to 11 a.m. Breakfast is $14.95 for kids 3-11 and $24.95 for adults. Reservations are strongly suggested and can be made by calling 1-888-999-6779.
To see the schedule for ICE!, buy individual or group tickets in advance, make reservations for Breakfast with Charlie Brown or book A Country Christmas vacation packages from two to three nights, which includes ICE!, call 1-888-999-OPRY or visit http://www.ChristmasatGaylordOpryland.com.
Gaylord Opryland's ICE!: Winner of prestigious American Hotel & Lodging Association best Special Event Nationally, 2008.
PEANUTS © United Feature Syndicate, Inc.
Media contact:
Kim Keelor
615.458.2877
###