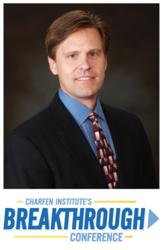 RealtyTrac is the leading online marketplace for foreclosure properties...
Austin, TX (PRWEB) July 05, 2012
Alex Charfen, CEO of the Charfen Institute, announced today that the company's lineup of speakers for its July 15-18, 2012, Breakthrough Conference in Las Vegas will include Charlie Engel, Senior Executive of Sales and Business Development at RealyTrac.
This year, the Charfen Institute's Breakthrough Conference presents an unprecedented networking and production-boosting opportunity for real estate agents. For the first time ever, it will bring together STAR POWER® Stars, Certified Distressed Property Experts® (CDPE), Certified Investor Agent Specialists® (CIAS), and other real estate professionals, all of whom are among the top-producing agents in the industry and on the front lines of the housing market recovery.
Founded in 1996, RealtyTrac has continued year after year to provide the most accurate foreclosure data to all specialized real estate companies. The company publishes a monthly "U.S. Foreclosure Market Report" based on trend reports that have been featured in major national, regional, or local broadcasts. The main focus of the foreclosure reports include uncovering hidden information for the mass market, property valuations, foreclosure sales data, comparable property sales, loan information, lien and bankruptcy data, and much more.
Engel has more than 10 years of sales management and business development experience helping RealtyTrac grow. He has held multiple senior-level positions including Vice-President of Real Estate Sales at Oodle.com and Director of Strategy and Business Development for Network Communications, one of the largest integrated real estate media companies in North America.
"RealtyTrac is the leading online marketplace for foreclosure properties, and Charlie Engel has been able to build and expand new business opportunities for the company," said Charfen. "We're excited for him to share his insights and expertise on the real estate market—and especially the distressed property market—with Breakthrough Conference attendees." Learn more about Engel's insights into the foreclosure and the housing market at this year's Breakthrough Conference.
For more information about the Charfen Institute's Breakthrough Conference and the complete lineup of more than 45 speakers, visit CharfenBreakthrough.com
About the Charfen Institute:
The Charfen Institute educates and trains real estate professionals and small business owners to find opportunities in chaos – either by providing solutions to the foreclosure crisis or empowering entrepreneurs with strategies to embrace their companies' full potential. The company produces more than 300 educational events each year through various divisions, including the Certified Distressed Property Expert® (CDPE) Designation, the Certified Investor Agent Specialist® (CIAS), LEAD Experience™, and its annual Breakthrough Conference. The CDPE Designation is the fastest growing independent designation in real estate industry history, with more than 40,000 agents trained since 2008. In 2011, the Charfen Institute ranked No. 21 on the Inc. 500 List of America's Fastest-Growing Private Companies.
About RealtyTrac Inc.
RealtyTrac is the leading online marketplace of foreclosure properties, with more than 1.5 million default, auction and bank-owned listings from over 2,200 U.S. counties, along with detailed property, loan and home sales data. Hosting more than 3 million unique monthly visitors, RealtyTrac provides innovative technology solutions and practical education resources to facilitate buying, selling and investing in real estate. RealtyTrac's foreclosure data has also been used by the Federal Reserve, FBI, U.S. Senate Joint Economic Committee and Banking Committee, U.S. Treasury Department, and numerous state housing and banking departments to help evaluate foreclosure trends and address policy issues related to foreclosures. RealtyTrac publishes a blog with daily updates on the foreclosure market (foreclosurepulse.com) and a monthly print newsletter covering the foreclosure market in depth.