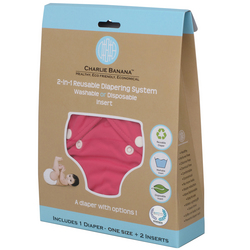 "Parents value and trust the PTPA Seal of Approval and they will know Charlie Banana™ is a trustworthy, high-performing brand,designed with care."
(PRWEB) August 25, 2010
Global cloth diaper manufacturer Winc Design Ltd. today announces the Charlie Banana™ (http://www.charliebanana.com) 2-in-1 Eco Diapering System has been awarded the influential Parent Tested Parent Approved Seal of Approval for excellence in family products.
Consumers looking for practical, high-quality products and services can rest assured knowing that products bearing the PTPA Media "Winner" Seal are all "Parent Tested, Parent Approved™" and now Charlie Banana™ (www,charliebanana.com) products have been honored the prestigious award.
Charlie Banana™ Eco Diapering System was among many entries from across North America competing to earn the Parent Tested Parent Approved™ Seal for the Fall 2010 campaign. Because independent parent volunteers evaluate these products in their own homes, PTPA winners are chosen based on merit and consumer experience – not on commercial considerations. As a result, the Parent Tested Parent Approved™ Seal has quickly gained recognition as an international leader in certifying consumer products for quality, effectiveness and value.
"We are thrilled and honored to have our products awarded the Seal of Approval from PTPA Media Inc., it could not have come at a better time," said Gaelle Wizenberg, CEO of Winc Design Ltd. "Parents value and trust the PTPA Seal of Approval and they will know Charlie Banana™ is a trustworthy, high-performing brand, designed with care."
Being honored with the influential Seal of Approval from PTPA Media Inc. is a huge achievement for a product geared to families, children or parents.
"At PTPA Media, we are proud to play a role in certifying innovative new products that families can trust," says Sharon Vinderine, president and founder of PTPA Media Inc. "It's win-win. By improving communication between manufacturers and consumers, we are helping companies serve their market better, and helping families identify products that have been tested and recommended by their peers."
About Charlie Banana™
Established in 2010, Charlie Banana™ is the international luxury brand of cloth diapers and organic baby products. Charlie Banana™ was created out of love for eco friendliness, quality and design by cloth diaper industry experts with more than 12 years combined experience. The Winc Design Ltd family and children are the inspiration behind Charlie Banana™ – with the desire to design products that individuals feel confident to use on their babies and themselves. For more information, contact http://www.charliebanana.com.
About Winc Design LTD.
Based in Hong Kong, Winc Design Limited Ltd is a distributor and manufacturer of Eco baby products. Being based in Hong Kong reduces shipping cost for customers and reduces the company's carbon footprint by having manufacturing at the door. Winc Design Ltd. has been nominated as the "Earth Champion" for waste reduction in years past. Winc Design actively promotes waste reduction on a daily basis and all of products are made with care.
About PTPA Media Inc.
About PTPA Media: PTPA Media provides an objective framework for appraising and promoting new products designed to enrich family living. The company's mission is to marry innovative companies with discerning consumers, to improve families' access to quality products and services.
Charlie Banana/Winc Design LTD Contact Information:
Carolyn Sutton, (214) 454-9214 or carolyn(at)charliebanana(dot)com or http://www.charliebanana.com
PTPA Media Contact Information:
Sharon Vinderine, Tel: (905)738-1447 x.224 For more information visit http://www.ptpamedia.com.
###