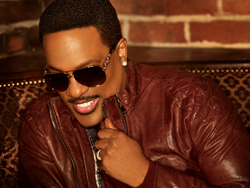 "It's always a pleasure to bring one of the greatest singers and performers in music history to DPAC. Charlie Wilson's catalog spans decades," states Sulaiman Mausi of The DOME Group, Inc.
Durham, NC (PRWEB) June 12, 2013
R&B legend and Grammy® nominee Charlie Wilson returns to DPAC, Durham Performing Arts Center, on Friday, September 20, 2013 following a sold out performance on the same stage in October 2011. DPAC presents this concert in partnership with The DOME Group, Inc.
Tickets go on sale Friday, June 14 at 12 p.m.:

Online at DPACnc.com
DPAC Ticket Center: 919.680.2787, 123 Vivian Street, Durham, NC
Ticketmaster.com / Ticketmaster Charge by phone at 800.745.3000
Friends of DPAC members may place their orders on June 13. Joining Friends of DPAC is free, and you can register at http://www.dpacnc.com/fod.
"The last time we hosted Charlie Wilson was in 2011. I remember the moment clearly. He had just come off stage and was already asking when he could come back to DPAC. We know fans of DPAC love the energy, the acoustics, the great views of the stage, but more and more we know the stars love being on stage at DPAC just as much as we love having them. There's a magic that happens at DPAC and we cannot wait to see Charlie Wilson cast his spell again for Triangle R&B fans," said Bob Klaus, GM of DPAC.
"It's always a pleasure to bring one of the greatest singers and performers in music history to DPAC," states Sulaiman Mausi of The DOME Group, Inc. "Charlie Wilson's catalog spans decades and he brings his catalog with his passion for performing to all of his performances. It's truly an amazing experience. This will be a phenomenal show."
The Natural. This simple phrase eloquently captures the essence of Charlie Wilson. That essence is currently commanding center stage with the sparkling ballad "My Love Is All I Have." No one slam-dunks a ballad like Wilson, the Grammy®-nominated multi-talent behind the 15-week Billboard Urban Adult Contemporary chart-topper "You Are." And that truth remains undisputed with "My Love Is All I Have."
In the early 1990s, Wilson became a friend and regular collaborator with Snoop Dogg. Their relationship provided Wilson with access to many artists who idolized him as well as fresh, emerging talent who have inspired him to continue pushing the limits of his own material. Wilson has since collaborated with a diverse array of artists including Kanye West, R. Kelly, Will.i.am, Jamie Foxx, T-Pain, Fantasia, Justin Timberlake and, most recently, 2Chainz on the 2012 Soul Train Awards.
Initially signed to MCA and then Interscope as a solo artist, Wilson has come a long way from the highs of his The Gap Band heyday to the lows of his alcohol and drug addictions. The Tulsa, Oklahoma native formed the pivotal R&B funk trio with brothers Ronnie and Robert. The siblings hit the charts in the late '70s and '80s with a string of hits. These included "Outstanding," "You Dropped a Bomb on Me," "Yearning For Your Love," "Early in the Morning," "Party Train," "Wednesday Lover" and "All of My Love." The group retired in 2010.
Working past his addictions, Wilson—sober now for 18 years—signed with Jive in 2004 after landing his first No. 1 Billboard Urban AC hit in 2000, "Without You." Still burning rubber on stage as well, the energetic Wilson averages 75-100 shows a year between concert tours, festivals and private events. He also finds time to give back. Wilson remains committed to promoting awareness and educating the male community about prostate cancer. A survivor of a disease that afflicts one in six American men—and one in three African-American men Wilson became a spokesperson for the Prostate Cancer Foundation in 2008. In April 2012, he announced his partnership with Janssen Biotech to launch the company's Making Awareness A Priority (M.A.P.) campaign. The program brings together leading voices in advocacy and health education through live events in select cities across the country (http://www.myprostatecancerroadmap.com).
About DPAC
Since its opening in 2008, DPAC, the Durham Performing Arts Center, has become the center for live entertainment in the Triangle. Recognized for its contemporary design, DPAC features 2,700 seats, intimate sightlines and state-of-the art sound and video. Listed four times in the top 10 in Pollstar magazine's annual worldwide theater attendance rankings, DPAC is currently the #5 ranked theater in the U.S.
What's up next at DPAC this summer? Summer's ultimate hip hop music experience KINGS OF THE MIC: LL Cool J feat. DJ Z-Trip, Ice Cube, Public Enemy, and De La Soul (June 16), SHERYL CROW in her most intimate concert ever in the Triangle (August 3), Politically Incorrect comedian and host of HBO's Real Time BILL MAHER (August 10), followed by superstar comedian and radio funnyman RICKEY SMILEY (August 24).
For more information please go to http://www.DPACnc.com.