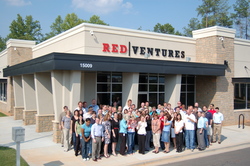 We're growing because we're maniacally focused on being great at all the elements of customer acquisition
Charlotte, N.C. (PRWEB) August 10, 2009
Red Ventures, a high-growth online marketing and sales company, is looking for top talent to fill new inside sales positions for its home security, Internet service and home remodeling businesses. The company is holding a sales job fair on Wednesday, August 12, from 10 a.m. to 2 p.m. and 4-7 p.m., to meet prospective employees.
The job fair will be held at the company's headquarters at 15009 Lancaster Highway. Advance registration is required at http://www.redventures.com/events.html, and space is limited.
Since January, Red Ventures has added 150 new jobs for a total of 650 employees, and company leaders expect to reach 800 total employees by year end. The company uses its expertise in online marketing and sales to generate hundreds of thousands of new customers each year for companies like ADT and DIRECTV. It was named one of the top three best large companies to work for by the Charlotte Business Journal in 2008.
"We're growing because we're maniacally focused on being great at all the elements of customer acquisition," said Senior Recruiter Susan Shanklin. "We've built stellar marketing channels and business relationships, and most importantly, a team of superstar talent in sales and marketing."
Red Ventures prides itself on its entrepreneurial culture, which gives employees at all levels responsibility for driving growth and profitability. Enter any of the company's offices, and the energy and excitement are palpable. Dozens of flat-screen scoreboards track sales stats in real time, giving the company's offices the feeling of a trading floor.
Red Ventures' inside sales positions include base pay, generous commissions and 100% company-paid health benefits for each employee. For more information, visit http://www.redventures.com/careers.
About Red Ventures
Red Ventures is an online marketing company focused on technology innovation, marketing channel development, and sales operations and conversion. The company is known for its expertise in sales generation for both consumer and business verticals. Its business units include Direct Star TV, Security Choice, and Satellite Star Internet. Red Ventures has been ranked among the top 20 fastest-growing companies on the Inc. 500 list for two consecutive years and was named one of the best companies to work for in Charlotte. Founded in 2000, Red Ventures employs 650 people in six locations.
###