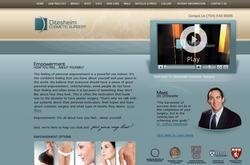 The barometer of success does not lie in the completion of a patient's surgery, but in the satisfaction of achieving their goals.
Charlotte, NC (Vocus) August 6, 2008 –-
Under the direction of Dr. Jeffrey Ditesheim, Ditesheim Cosmetic Surgery is redefining the ultimate body and making it accessible to moms in Charlotte. For many women, child birth changes the body in ways that exercise and diet alone cannot correct. Often times, moms are left with excess skin and weight in their breasts, tummies, and hips following pregnancy. Whether it is going back to what it was before pregnancy or enhancing their post -baby physique, Dr. Ditesheim is surpassing others in the field with his refined techniques, leaving patients with the body they desire.
Wanting to change something about the way one looks is normal. In post pregnancy women, these desired changes frequently involve those to the breasts and tummy. Breast feeding will often leave women with deflated or flat breasts. Luckily, Charlotte breast enhancement surgery patients have access to a variety of customized treatment options including a breast augmentation, breast lift and/or combination of the two. While the breast augmentation and breast lift procedures are not new to the field of plastic surgery, Dr. Ditesheim's unique short-scar or lollipop technique will reduce the visible scaring associated with the procedure in the past. In addition to changes to a woman's breasts, pregnancy can take its toll on the abdomen area by leaving stretched excess skin that can only be repaired with surgery. Charlotte breast augmentation patients will often combine breast and tummy tuck procedures to achieve their complete "Mommy Makeover".
As one Charlotte breast lift/ implants patient shared, "I always wished my body looked a bit different but never pursued it beyond that. After meeting with Dr. Ditesheim I felt so comfortable and making the changes seemed really within reach. He had so much knowledge about procedures and results; it made it easy to decide which procedures to move forward with. What can I say? I am thrilled with my new look!"
The opportunity to feel empowered and to have the look they always wanted is now at patient's fingertips through Ditesheim Cosmetic Surgery. A Mommy Makeover patient explains, "I cannot even begin to describe how wonderful and liberating it is not to be ashamed of my body anymore. Finally it is representative of all the effort I have put into maintaining my figure after the birth of my children. Your service and support has been exceptional and worth every penny!"
In the field for more than 16 years, Dr. Jeffrey Ditesheim completed his education and training at New York University and Harvard, learning and training with some of the best surgeons in the world. Experience and desire to provide his patients the best results possible, Dr. Ditesheim has fine tuned many techniques and mastered the processes he performs. As he explains, "The barometer of success does not lie in the completion of a patient's surgery, but in the satisfaction of achieving their goals." Each procedure is a reflection of the care and expertise he brings to the table, yielding spectacular results.
Ditesheim Cosmetic Surgery is available to help patients look and feel their very best. For more information on the services offered, to view the before and after photo gallery, or to schedule your makeover consultation, visit http://www.empowermd.com or call (704)542-8686.
###