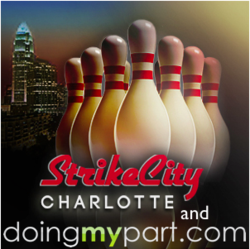 Everyone wants to have fun. Everyone can do that and help local causes with doingmypart.com and StrikeCity by Bowling for a Cause
Charlotte, NC (PRWEB) August 31, 2012
DoingMyPart.com is doing it again with another fun and interesting way to raise money in Charlotte, North Carolina. Through their collective reach and interest in building a better community, Doing My Part and StrikeCity Charlotte are bringing "Bowling for a Cause" to Charlotte, NC.
Each month, StrikeCity Charlotte will welcome DoingMyPart.com and the DMP Street Team members to host events where attendees may enjoy an evening of bowling and drink specials. Delaney and Spencer hope to raise awareness and funds for various non-profit fundraising causes by bringing the community together to have fun and learn about important causes.
With the beginning of this new project, DoingMyPart.com initiates another groundbreaking social philanthropic fundraising effort associated with the $3 Hero fundraising movement that a few short months ago with the launch of doingmypart.com. The two social entrepreneurs plan to focus on both local and national social issues, including youth homelessness, wounded warriors, permanently injured athletes, juvenile diabetes, cancer research and treatment.
For the next few weeks, Delaney and Spencer plan to reach out to hundreds of local Charlotte residents such as the DMP Heroes and Street Team, community groups, local media and StrikeCity Charlotte regulars to join them in their quest to help those in need.
Doing My Part is a non-profit organization with the mission of "transforming the way the world gives back." Doing My Part gives anyone the chance to become a Hero through a minimal $3 automatic monthly donation. To see more information visit the website, go to the facebook page or see the previous press release here.