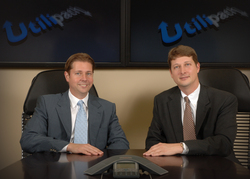 Almost all our growth in 2009 came from existing customers, which I believe is the best testament to the success of our business model.
Mooresville, NC (PRWEB) February 5, 2010
Founded in 2003 by Lindon Hayes, a North Carolina native and UNC graduate, Utilipath has ascended from a start-up into a leading provider of end-to-end telecommunications infrastructure solutions in the United States and Canada. Led by the company's three Principals, Lindon, Baxter, and Jarrod Hayes, Utilipath has maintained strong revenue and profitability growth in a decade bookended by two major recessions. In late 2009, that success landed the company a spot in the Charlotte Business Journal's list of the 50 fastest growing companies in the area, the "Fast 50."
Lindon explains how Utilipath has maintained rapid sales and profit growth during the current financial crisis. "Almost all our growth in 2009 came from existing customers, which I believe is the best testament to the success of our business model," he writes. "We re-engineer our processes, organization, and information systems to fill the voids for our Fortune 2000 customers that can't or won't do it for themselves. When you layer this capability onto our traditional service offerings, it is a very powerful differentiator for customers that are looking for a partner and not another vendor."
Historically speaking, this model has proven very effective for Utilipath. A strong focus on customer satisfaction, process efficiency, and retaining top engineering talent has allowed Utilipath to partner with technology behemoths such as AT&T, Verizon, Sun Microsystems, Lockheed Martin, Qwest, and Harris Corporation. Lindon estimates that this approach will continue to serve the company well into the 2010 fiscal year. "Since every customer we've ever worked for has asked us to expand our business with them, we just need to get the word out to new customers to have a great year," Lindon writes. "We plan to get the word out."
Utilipath's recent appointment to the Fast 50 signals a coming of age for the Mooresville, NC-based telecommunications contractor, not only in terms of its size, service offerings, and geographic reach, but also in terms of its financial strength. Winners of the Fast 50 were ranked based on average growth rates over a three year period as reported by an independent accounting firm selected by the Charlotte Business Journal.
From the data center to the desktop . . . from the central office to the customer premise . . . Utilipath designs and deploys end-to-end technology solutions, specializing in data center design and construction, intelligent building systems, equipment and networking, outside plant and private fiber builds, and intelligent transportation systems.
###