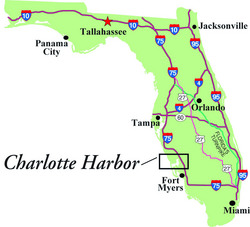 "White Pelicans are attracted to the area for the same reasons as our human visitors: mild winter weather, un-crowded beaches, protected wildlife habitats, wonderful fishing and tasty seafood."
Charlotte Harbor & the Gulf Islands, FL (PRWEB) October 6, 2010
Thousands of distinctive White Pelicans, the area's original "snowbirds," return every October and November to Charlotte Harbor & the Gulf Islands, offering visitors a delightful look at these majestic creatures. To celebrate this migration, the Charlotte Harbor Visitor & Convention Bureau has arranged for special new packages at area hotels and attractions.
Just like their human counterparts, the birds fly in from colder climes – from as far as Western Canada and the Northwestern United States – to spend a warm winter vacation in this Southwest Florida getaway located on the Gulf halfway between Sarasota and Fort Myers.
"It's easy to see why White Pelicans are attracted to our area," says Monica Dorken, Educator/Program Coordinator for the Charlotte Harbor Environmental Center. "They come for the same reasons our visitors do: for mild winter weather, for un-crowded beaches and protected wildlife habitats and for wonderful fishing and tasty seafood," she says.
Charlotte Harbor is helping its human visitors enjoy special White Pelican packages and discounts, which are posted on the new blog, http://charlotteharbortravel.wordpress.com/2010/09/21/whitepelicans2010/.
One of the largest North American birds, with a wingspan up to nine-and-a-half feet, the American White Pelican can weigh up to 30 pounds. Highly dependent upon lakes, wetlands and coastal estuaries, American White Pelican populations are threatened, but because Charlotte Harbor & the Gulf Islands has many protected wildlife refuges, it's easy to find them.
One of the largest concentrations in the Southeastern United States is on White Pelican Island in Gasparilla Sound, where as many as 2,000 of the birds make their winter home. The viewing is so spectacular here that it's a favorite location for internationally-acclaimed wildlife photographers. White Pelican Island, along with Island Bay National Wildlife Refuge, are off limits to humans, but both are easily visible by boat tours.
Additionally, Charlotte Harbor, the Peace and Myakka Rivers offer plenty of spots to see Pelecanus erythrorhynchos. Hundreds of White Pelicans have been observed in a feeding frenzy at Charlotte Harbor Environmental Center's Alligator Creek Preserve. With plenty of hiking trails and ponds, Alligator Creek is one of seven Charlotte Harbor sites listed on the Great Florida Birding Trail, part of the Florida Gulf Coast portion of the North American Migratory Flyway.
It's easy for visitors to see the birds, dolphins and other wildlife at the same time they are enjoying the beaches, the fishing and the water. Punta Gorda River Boat Tours offers a wildlife and history cruise up the Peace River that includes a stop for lunch at an Old Florida "fish camp" style restaurant. Nature Education and Science Explorations runs Charlotte Harbor eco-tours (http://www.florida-secrets.com/nese.htm) with hour-long birding trips aboard a six-passenger pontoon boat. Boca Boats stops by the white pelican refuge in Gasparilla Sound on all of their cruises. Grande Tours offers kayak tours of White Pelican Island and other prime birding spots. Kingfisher Fleet offers half-day tours to Cayo Costa State Park or Cabbage Key, where many bird species can be seen. For a full list of tour options, including kayaking, boat rentals and more, go to http://tinyurl.com/charlotteharboractivities.
Accommodations and Birding Packages:
Many hotels, attractions and tour operators have joined with the Charlotte Harbor Visitor & Convention Bureau to offer special new discounts and packages. Below are just a few of the options, which are valid November 15 – December 15, 2010. To view all the offers, go to http://charlotteharbortravel.wordpress.com/2010/09/21/whitepelicans2010/
One-night White Pelican Kayaking Explorers Package
Three Port Charlotte hotels are offering a White Pelican Kayaking Explorers Package including a one-night stay, a hot breakfast and a two-hour guided kayaking trip through the backwaters of Charlotte Harbor with a local guide. Partake in a seine-netting experience, and catch (and release) all kinds of marine life, including crabs, fish, shrimp, jellyfish and whelks, while learning about each one and their important role in the marine environment. Rates are based on double occupancy, not including tax; advance reservations are required. Additional rooms and nights can be added by calling the hotels directly.
Days Inn Port Charlotte (941-627-8900) $65 per person;
Holiday Inn Express & Suites (941-764-0056) $75 per person;
Hampton Inn (941-627-5600) $85 per person.
http://www.hotelsofportcharlotte.com
Florida Feathered Friends Kayak Eco Tour Package
Join the Four Points by Sheraton Punta Gorda Harborside and O-Sea-D Aquatic Adventures on an up close and personal encounter with some real "snowbirds" - the white pelicans. A Florida Naturalist guide will educate and entertain as you coast quietly near these beautiful birds. Single and tandem kayaks are available. Subject to availability; terms and conditions may apply. The package includes 3 day/ 2 night hotel accommodations, Kayak Tour through Placida Harbor, dinner for two at the Dockside Grill – your choice of entrée, one cocktail per person and chef's choice of dessert, all for $304, plus tax, based on double occupancy. For reservations, call (941) 637-6770 and ask for the Florida Feathered Friends Kayak Eco Tour Package or visit http://www.fourpointspuntagorda.com
See the Birds – Make some "Birdies"
Place in the Sun Vacation Rentals is offering free Golf and a dozen free golf balls when visitors rent select vacation rental homes. Rentals start at $695 per week, plus 12% tax and golf cart fees. (941) 465 6888, http://www.placeinthesun.com
For more information on additional wildlife tours, vacation home rentals, hotels, dining and other activities, go to http://www.CharlotteHarborTravel.com
About Charlotte Harbor & the Gulf Islands
Located halfway between Tampa and Naples on the Southwest Florida Gulf coast, Charlotte Harbor & the Gulf Islands is a charming collection of nine coastal communities surrounding the state's second largest harbor. Florida's premier year-round eco-tourism destination, Charlotte Harbor & the Gulf Islands offers a pristine unspoiled beauty that has served as the backdrop for seven major feature films as well as countless memorable vacations. A haven for outdoor enthusiasts, Charlotte Harbor & the Gulf Islands has been named to SAIL magazine's "10 Greatest Places to Sail in the United States," ranked by Golf Digest as "Third Best Place to Live and Play Golf in America," and rated by MONEY magazine as one of the "Best Places to Live in the South." Englewood, Fla. was named as #2 of the Top Ten emerging travel destinations in the U.S. by TripAdvisor.com.
###