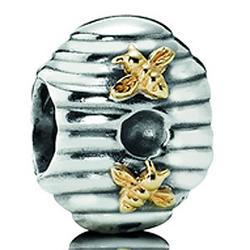 Look out for the new PANDORA spring line at the San Francisco store available now!
San Francisco, CA (Vocus/PRWEB) April 08, 2011
There's a change in the air this time of year, and PANDORA jewelry, world famous for their bracelet and twist-on charm design, is opening its doors to the new season. During April and May, the San Francisco bead store is inviting customers to come to their Westfield Centre location to view their beautiful new collection of beads for spring. A charm bracelet from PANDORA is composed by selecting and combining different beads, making each one unique.
"Look out for the new PANDORA spring line at the San Francisco store available now!" said owner Curtis Chong from PANDORA San Francisco. "Although fans may be sad to hear that some of their favorites are retiring, PANDORA is releasing a number of new pieces to fill those unforgettable moments."
Stylish new beads in the spring collection are inspired by the change in seasons. New designs include a dangling four-leaf clover with green or red leaves, a silver bee hive with 14 karat gold bees, and a sterling silver doghouse charm..
The PANDORA concept allows customers to pick beads made of sterling silver and gold to create their own unique style. PANDORA even owns a patent for its unique system. Their charm bracelets offer modular designs with easily interchangeable parts that allow the wearer to select beads for a dress up elegant look, or to alter the look for more casual wear at a moment's notice. This allows fashionistas everywhere to change their look up for the season without breaking the bank.
For more information about the new PANDORA spring line or any of PANDORA San Francisco's products or services call them at (415) 655-1572, view them on the web at http://www.PANDORA-sfbay.com, or visit their store located at 845 Market Street; Second Floor in San Francisco.
About PANDORA San Francisco
PANDORA is a universe of jewelry and an internationally recognized brand with origins in Denmark. They are known worldwide throughout the jewelry design community for elegant charm beads that twist on to a bracelet to create a personal and unique piece of elegant jewelry at an affordable price. Besides the famous charm beads, PANDORA San Francisco offers PANDORA rings, necklaces, bracelets, watches and more.
###