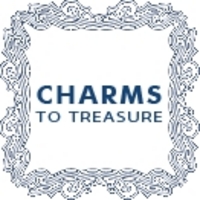 Recently my oldest sister's husband was killed in a horrible logging truck accident…my sisters friends and myself have started a charm bracelet for their life together. I recently ordered the hand
San Francisco, CA (PRWEB) October 7, 2010
When one imagines Charm bracelets, all sorts of images come to mind. And yet, a tribute to a dear family member's passing probably isn't one of them.
That was exactly what was shared in a recent charm story on http://www.CharmstoTreasure.com. As part of the 'Your Bracelet Story' contest, three charm bracelet stories are featured on the Charms to Treasure website each month with one lucky winner receiving a free sterling silver charm bracelet.
"We are often touched at the stories we hear about how sterling silver charms really capture the events, and true feelings friends and family have for one another " said Shiran Cohen, business manager.
Recently, one story received 82% of the winning "Your Bracelet Story" votes. A quick review of the touching story and it's easy to see why.
As Jessica from Alabama shared, "Recently my oldest sister's husband was killed in a horrible logging truck accident…my sisters friends and myself have started a charm bracelet for their life together. I recently ordered the hand "I LOVE YOU" because Anthony always did that hand signal to my sister, future charms will be the wolf, it which he loved wolves, the Alabama Crimson Tide charm because he was a die hard fan, and a hunting charm because of his love for hunting. I know for my sister she can look at this bracelet and see all the things that Anthony stood for and loved!"
For Jessica, her family and the thousands of families around the world, charms and charm bracelets tell a story, even a family history. In fact, another charm story published that same month told of a mother-in-law's 75th birthday and how each of the six children purchased a charm to symbolize them and their families.
To enter the "Your Bracelet Story" contest, participants share a brief story describing their charm bracelet. Each month, three finalists are selected and their charm bracelet stories are published on the Charms to Treasure website. Every month, the best story will be selected based on votes from the site's blog readers and Twitter followers and the winning participant will receive a beautiful sterling silver bracelet valued at $200.
Contest entries will be accepted from U.S. residents ages 18 and over up until midnight of the last day of each month, and the top three stories will be published by the fifth day of the following month. Only one entry per email address or household will be accepted per month. Complete contest rules and details are available on the Charms to Treasure website.
http://www.charmstotreasure.com/blog/charm-bracelet-story
"We want to hear the story behind your charm bracelet and why it's so special to you," said Cohen. "We look forward to receiving the stories from contest participants and I know that our customers feel touched upon reading them."
Charms to Treasure offers a large selection of affordable silver, yellow gold, white gold and diamond-accented pieces perfect for any occasion or gift-giving season. Popular items include baby shoe charms, angel charms, cross charms and charms suitable for engraving.
Charms and charm bracelets are often the perfect gift for any occasion. To share a charm story, visit http://www.charmstotreasure.com/blog/charm-bracelet-story and if the two stories shared here are any indication, inspiration is sure to follow.
About Charms to Treasure
Charms to Treasure is an online retailer with a selection of over 10,000 of silver, gold and diamond-accented charms, charm bracelets, necklaces, chains and other accessories. Charms to Treasure is a subsidiary of Simayof and is based in Northern California. To learn more, call 800.772.8650 or visit http://www.charmstotreasure.com
# # #