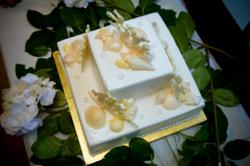 I've seen how beautifully all these businesses handled every aspect of weddings and receptions held by my guests
Brisbane, CA (Vocus/PRWEB) March 29, 2011
Yacht Connections International (YCI) owner Marti McMahon has been hosting unforgettable weddings aboard her various yachts for over 30 years, so when she became engaged to Dr. Stephen Diamond, owner of Diamond Properties, she knew right away where she wanted to hold the wedding: on board the 100' California Spirit, a yacht she commissioned years ago and recently refurbished with finishing touches completed in January 2011. They married on Valentine's Day, cruising along the San Francisco Bay into their future together with family and the closest of friends.
"We were engaged early last year but there was always something that came up to put our wedding on hold," explained Marti, "so we said, let's just do it…and it was perfect."
They had just a little over one week to plan the wedding, but it was a breeze for Marti, because after so many years of helping other people plan their dream weddings aboard this most romantic of San Francisco wedding venues, she has forged strong relationships with the best vendors in the Bay Area who know how to make a short-notice wedding work.
Marti arrived early to put on her Sue Wong dress in the lovely bridal salon created exclusively for brides and bridesmaids.
She carried a bouquet of white calla lilies. The flowers on board featured hydrangeas, roses and jasmine designed exclusively by Laura Little of Floramor, who has been providing flowers for Marti's company for 30 years.
Marti and Steve chose to have the ceremony in the Upper Salon with views of the water behind and the American Flag flying brightly as the ship's Captain, Bill Nadauld, officiated the ceremony.
Guests watched teary-eyed as Marti's two sons Darren and Derek gave her away to her soul mate, who looked dashing in a white jacket and slacks with a black custom shirt and matching royal blue/black tie, cuff links and pocket square by Thomas Pink.
"It was absolutely beautiful," said Mary Huss, publisher of the San Francisco Business Times and a close friend of the couple. "Being out on the water and in a really intimate, beautiful space creates a very special moment. It was just kind of magical."
After the ceremony, guests enjoyed a succulent lobster dinner in the Main Salon, followed by drinks and many toasts. The dinner was prepared on board by the yacht's expert chefs. "We pride ourselves on the best food and yacht combination on San Francisco Bay," said Marti.
Five-Star Pastry Chef Gerhard Michler created the cake to order: a delectable two-tiered confection with a layer of génoise with lemon filling, and another with chocolate and chocolate mousse filling. The cake was decorated with diamonds and sugar sea shells and starfish. Marti raved, "YCI orders Gerhard's pastries for all of our events and they are wonderful. We demand the very best products for our cruises."
The whole event was beautifully captured by Jonathan Costello, a San Francisco-based photographer with nearly 20 years of experience in wedding, portrait, event, travel, and fine art photography.
"I've seen how beautifully all these businesses handled every aspect of weddings and receptions held by my guests," said Marti, "so I trusted them completely when it came to my own nuptials. I knew that even with very little notice we could pull off the perfect wedding."
Two additional celebratory parties are planned so more notice can be given to friends; one on board the California Spirit yet again with about 120 friends, and another at their beachfront French Provencal home in Carmel where Marti and Steve enjoy spending their leisure time.
For more information about Marti's wedding, or to book a wedding on board the California Spirit or the more intimate Yacht Lady, call Yacht Connections International at (650) 273-5867 or view their website at http://www.ycicharters.com and http://www.yachtconnectionsinternational.com
About Yacht Connections International
Yacht Connections International provides charter yachts from San Francisco for special business events and social celebrations, including: business meetings, seminars, team building excursions, weddings, anniversaries, birthdays, memorials at sea, holidays, sailing regattas, chase boats, wine country cruises, movies, photo shoots, and cruises paired with AT&T Park events. Gourmet dinner cruises on the San Francisco Bay are not to be missed.
Yacht Connections International can arrange other services for unforgettable San Francisco Bay cruises, such as entertainment, photography, valet service, audio and visual, invitations, flowers, specialty cakes, and specialty linens.
###