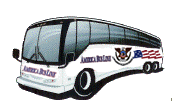 We also have Feather Falls Casino for $25 on Oct. 22. The trip includes six hours at the casino, where guests receive $10 back to play
San Jose, CA (PRWEB) October 11, 2011
America Bus Lines, the Bay Area charter bus company, is offering several promotions this month. Its Disneyland California Adventures trip is scheduled for Oct. 29. The cost of the trip is $60 dollars for transportation or $120 for transportation with park entrance. The trip is turn around which means that the buses are leaving at 1 a.m. and arrive back at midnight.
"We also have Feather Falls Casino for $25 on Oct. 22. The trip includes six hours at the casino, where guests receive $10 back to play," said Raquel Flores of America Bus Lines. "The bus leaves at 7:30 a.m. from Jackson and McKee, San Jose, CA and we arrive back by 7:30 p.m."
On Oct. 29 to Oct. 30, America Bus Line is offering a Reno, Nevada trip for a Halloween celebration at Circus Circus. The cost is $85 per person in double occupancy. It includes one night hotel, $38 in bonuses from casinos, transportation, snacks on board and a world of fun.
Renowned for its reliable fleet and professional staffing, America Bus Lines comes out on top as the finest choice for the Bay Area tour bus rental and party bus rental services. As an SPAB certified company, it is well equipped with new buses and fleet insurance. Confident in its competitive pricing, America Bus Lines promises to beat any quote presented by its prospective clients.
America Bus Lines can carry any range of clientele from 50 to 58 people for a wide range of events. Its San Francisco Bay Area clients utilize its superior charter bus rentals for airport transfers, group sightseeing, bachelor and bachelorette parties, sweet sixteens, snow trips, Christian camp ventures, corporate meeting transportation, employee shuttles and much more.
For more information on America Bus Lines, call 408-293-6323 or visit http://www.americabuslines.com. America Bus Lines is located at 250 Commercial St., Suite #2 San Jose, CA 95112.
About America Bus Lines
America Bus Lines, located in the Bay Area, provides a range of charter and tour bus rental services for all groups and organizations both large and small. They cater to organizations throughout California, Nevada, Utah, Oregon, Arizona, Texas, New Mexico and Washington. America Bus Line of the Bay Area renowned services include tour bus and party bus rental services, charter bus rentals, and limousine rentals.
###