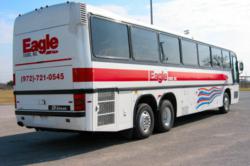 Eagle Tours Inc. is excited to offer to customers discounted group ticket sales for the 2011 Dallas Texas State Fair...
Dallas, Texas (PRWEB) July 15, 2011
Eagle Tours Inc. is excited to offer to customers discounted group ticket sales for Dallas' Texas State Fair which takes place between September 30 and October 23 of this year. For groups of 20 or more traveling to the fair, the company will discount regularly priced tickets by a full 20 per cent (details can be found on their website). The charter bus Dallas and charter bus San Antonio company, has an extensive fleet of buses which will provide hassle-free travel for attendees so they will be free to enjoy the fair without having to worry about driving in high traffic or parking.
The fair opened in 1886 to a crowd of 14,000 and today is one of the largest in the country with a 2010 attendance of more than 2.6 million. Entertainment choices are extensive, to say the least, with more than 70 amusement rides and exhibits featuring everything from the latest and greatest automobiles to the most delicious jams and jellies found anywhere.
In addition to hosting the biggest new car and truck show in the Southwest, judges evaluate 7,000-plus creative arts entries and 8,000 livestock entries annually, many of which are auctioned.
But there's even more with pig races and dog shows, music concerts, a BMX bicycle show, the U.S. Marine Drum & Bugle Corps, and a lot more including being "the fried food event of the year."
Bus Safety:
Eagle Tours is an approved carrier for the Department of Defense, for which it has to meet special qualifications: In order to obtain and keep this approval the company regularly goes through extensive inspections and audits and maintains $5 million dollars of liability insurance per occurrence.
Licensed with both the U.S. Department of Transportation (#194430) and Interstate Commerce Commission (#MC166768), Eagle Tours holds the highest rating with the Department of Transportation (DOT) and has Federal Operating Authority for interstate operations throughout the United States and Canada.
In addition to employing only experienced drivers who are all qualified under all current state and Federal DOT rules and regulations, the company maintains an extensive on-site driver safety program that includes safety refresher training seminars.
All drivers are monitored by the Eagle's own Safety Director, all hold a current Commercial Drivers License with passenger endorsements, have valid medical certificates, and are subject to random drug testing not to mention extensive background checks.
Eagle maintains an on-site motorcoach certified maintenance and repair facility, is a member of the American Bus Association and actively supports initiatives that help remove unsafe companies and drivers from the roads such as endorsing educational benchmarks for drivers.
About The Company:
Eagle Tours (Eagle Trailways) is a privately-owned transportation company located in Irving, Dallas County, Texas, that has been serving the DFW Metroplex since 1979. The bus charter company has more than 60 vehicles in its fleet and is a member of several prestigious organizations including the Commercial Vehicle Safety Alliance (CVSA), American Bus Association, United Motor Coach Association, Better Business Bureau, Dallas Chamber of Commerce, Dallas Convention and Visitor's Bureau and the Irving Chamber of Commerce. The company currently has the highest possible rating issued by the U.S. Department of Transportation, and is an approved carrier for the Department of Defense by the Surface Deployment Distribution Command. More information can be obtained by telephone at (800) 829-8687 or through their main website at EagleToursInc.com.
###