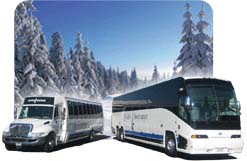 Book with us and ride with us
Santa Clara, CA (PRWEB) January 05, 2012
With the holidays coming to a festive end, it is time to figure out how to fill that long winter void between New Year's and the beginning of spring. That void can be filled by San Jose charter bus company, Quality Assurance Travel and its one-day ski program.
Offered every weekend, beginning Jan. 7 and running until the end of March, Quality Assurance Travel can organize a one-day trip to the Tahoe ski resorts for only $45. The company can arrange pickup for skiers in San Jose, Santa Clara, San Francisco, San Mateo and Oakland.
Booking is easy. Simply go online at skibusride.com and look forward to a day of skiing at some of the world's finest resorts.
"Book with us and ride with us," said Art Moreno of Quality Assurance Travel.
Quality Assurance Travel, a San Jose ski bus company owns its own bus fleet, complete with 17 vehicles. Unlike other travel agencies they make sure buses are equipped with snow chains, is the latest model, and that the drivers are rested and well-trained to drive in any weather. Safety is the chief concern at QAT and they emphasize it at all costs.
Quality Assurance Travel offers information about ski trips in the Tahoe area including Boreal, Alpine Meadows, Northstar, Sugar Bowl, Sierra, and Kirkwood.
Families who don't ski, but enjoy playing in the snow together will want to check out all the fun activities available at the snow parks in the area including sledding, tubing, live reindeer, pony rides, and more.
Quality Assurance Travel offers snow trip packages for all types of Bay Area groups including schools, churches, corporations, and teams.
For more information, visit the new website of Quality Assurance Travel at http://www.skibusride.com, call 1-888-333-6554 or visit them in Santa Clara at 1585 Laurelwood Road.
About Quality Assurance Travel
Known for our reliability, unwavering commitment to safety, charter bus fleet with options to match ski charter needs and our deep knowledge of the Bay Area and beyond, we are family-owned and operated, and when it comes to ski bus trips, we know Tahoe!
We provide our Bay Area ski bus trip passengers with a "soup-to-nuts" ski charter and bus tour experience.
# # #