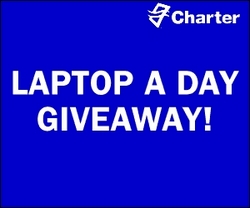 Our customers have made online sales our fastest growing channel because it is an efficient way of finding the package that best meets their needs
St. Louis (PRWEB) September 18, 2008
Charter Communications, Inc. (NASDAQ: CHTR) announced today that the Company will offer new and current customers a chance to win one of 30 laptop computers by ordering services online.
"Our customers have made online sales our fastest growing channel because it is an efficient way of finding the package that best meets their needs," said Barbara Hedges, Senior Vice President of Consumer Marketing for Charter. "This promotion is an innovative way to continue to drive sales through this popular channel, and at the same time reward our customers with exceptional savings and value."
Charter Digital Cable® customers receive access to On Demand and the stunning clarity of high definition; Charter High-Speed Internet® is a fast and reliable Internet experience with the added convenience of wireless home networking; and with Charter Telephone®, customers can save up to $150 per year versus the service provided by traditional phone companies."
New and current Charter customers can order High Speed Internet, Cable TV, or Telephone services online -- any one, or all three -- and be entered to win one of 30 laptops Charter will give away in September. In addition, by ordering online, customers receive a gift card for gasoline in the amount of $25 for ordering one service, $50 for ordering two services, and $100 for ordering all three of Charter's services. Visit http://connect.charter.com/laptopaday/ for more information.
Over the past year, Charter has invested over a billion dollars in capital to serve its customers and to enhance its service capabilities. Charter is committed to investing in its communities, providing an advanced network on which residential and commercial customers rely for their communications needs, and delivering value to all its customers by offering high-quality products and services backed up by superior customer care.
About Charter Communications
Charter Communications, Inc. is a leading broadband communications company and the third-largest publicly traded cable operator in the United States. Charter provides a full range of advanced broadband services, including advanced Charter Digital Cable® video entertainment programming, Charter High-Speed® Internet access, and Charter Telephone®. Charter Business™ similarly provides scalable, tailored, and cost-effective broadband communications solutions to business organizations, such as business-to-business Internet access, data networking, video and music entertainment services, and business telephone. Charter's advertising sales and production services are sold under the Charter Media® brand. More information about Charter can be found at http://www.charter.com.
Contact:
Media:
Anita Lamont
314-543-2215
###