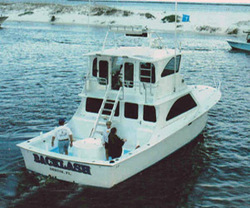 when you love what you do for a living it will show in your work.
Destin, FL (Vocus) March 12, 2010
Backlash Charters of Destin says they are optimistic about a banner year in booking fishing trips in 2010. Captain Jason Mikel says that "already people are calling to book charter fishing trips in hope of catching an Amberjack, Cobia, Swordfish, or maybe even a shark. This year it seems that more people are booking charter boat reservations out of a desire to experience a true sporting adventure that they do not have to travel far to experience. Jason says a lot of people from Atlanta, Chattanooga, Greenville and Charlotte are making reservations early.
Backlash Charters is one of the premiere charter boat fishing companies that serves the gulf coast of Florida. Backlash Captain Jason Mikel has earned a reputation for knowing exactly where to find the elusive Amberjacks. People from all over seek out the Backlash to go on an adventure that may turn in to the memory of a lifetime catching one of these sought after sportfish. When you visit the Backlash website you will see lots of pictures of people showing off their prize catch of the day.
Charter Boat Fishing Rates in Destin are very reasonable. In fact Backlash Charters was just reviewed by "fishingrecreation.com"one of the top online magazines and blogs about fishing as being one the most fun and enjoyable charter fishing boats in Florida. This is not surprising to Captain Mikel. He says," when you love what you do for a living it will show in your work." "My job is simply this, taking people to where the fish are."
Backlash Charters takes care of their passengers. They provide fishing license, ice, and yes even the bait and tackle. The first mate is also always willing to lend a hand. Backlash Charters is a great experience for friends, colleagues, and family.
Destin, Florida itself is also a great getaway. The beaches of Destin are not only the whitest beaches in the world but are also a great place to soak up some rays. The water is emerald green and very clear and full of marine life. The area of Destin is enhanced by a few bed and breakfast places and nice hotels. The restaurants here offer a great variety of foods and the seafood cuisine is excellent. If you love water sports; Destin is the place. Besides great sportfishing; many people will be surfing, paddle boarding, para-sailing, kite surfing, sailing, and even riding some jet skis. This is truly a sportsman's paradise.
Shopping in Destin is also wonderful. There are a lot of famous brand name stores in the area. Destin has a lot of boutiques and specialty stores. Destin has some great outlet stores and lots of souvenir shops. Also you might want to enjoy a relaxing trip to one of the many day spas available.
However the main reason to visit the gulf coast is to catch a prize fish such as the Amberjack. Jason says these fish are abundant year round, as long as, your aboard the Backlash. Amberjacks are usually found in deep water. Jason through the many years has learned just the right location and depth to catch the big ones. He does not allow any GPS devices on the trip to protect his secret locations. Jason takes pride in his knowledge of the gulf waters and looks forward to seeing the excitement on people faces when they pull in a big fish.
Backlash is a great boat. The "Backlash" is a 40' Fiberglass Infiniti Sportfisherman built for Speed, Fishing, and Comfort. The Infiniti is a proven hull design that offers a stable ride and the modern salon offers all the comforts of home. The boat is loaded with the latest fish finding, entertainment and safety equipment. The Backlash has everything from a microwave to a refrigerator/freezer. It even has a flat screen TV/DVD player and a Play Station. Yes there is a bathroom. So the Backlash is not only designed to be comfortable yet capable of finding where the fish are hiding.
So plan an adventure to Destin, Florida to go after a mighty Amberjack, Cobia, Swordfish, Grouper, Snapper or many other prized fish caught out of Destin, Florida. Or just book a casual short and fun trip just as a family outing. The Backlash is a charter fishing boat experience that will provide lifelong memories. Go ahead and visit Backlash Charter Reservations page and book your trip today. Captain Mikel says he looks forward to welcoming you aboard the Backlash.
###